Welcome to

Stoney Creek Elementary

Stoney Creek Elementary is an early elementary school implementing the "Leader in Me." Together with the "Leader in Me" we are working on growing kind hearts and minds while inspiring personal success!

The staff, parents, and educational community of Stoney Creek Elementary School are proud to welcome all who enter our school.

We are committed to teaching the academic and social skills necessary for life-long learning.

We will maintain a safe, nurturing environment in which we will provide a diverse and meaningful instructional program that enables all students to succeed.
Kindergarten / Readiness Kindergarten 2023-2024
Kindergarten Screening for the 2023-2024 school year is coming soon! You are invited to an informational meeting for parents and a time for students to meet with our teaching team on April 18 or April 20, 2023. Please go to this link to sign up today.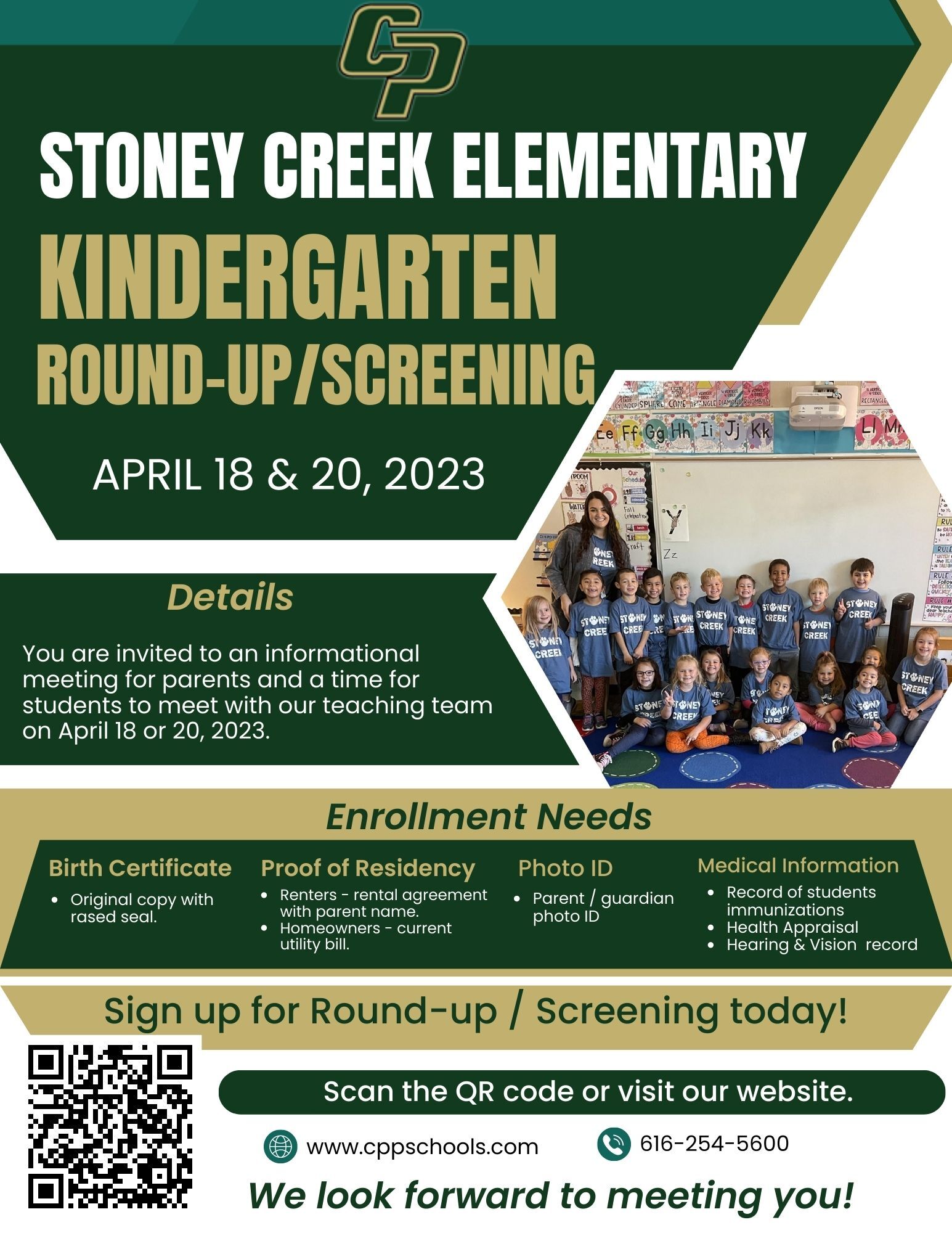 Meal Charges RESUME: 2022-2023 School Year
During the
COVID
Pandemic, schools were able to provide FREE meals to all students through Federal Programs. Unfortunately, those programs ENDED at the end of the 2021-2022 school year.
Starting with the 2022-2023 school year, all meals through the school will once again be charged to student lunch accounts and the costs of all purchases will need to be covered by families.
Did you know that your student might qualify for free or reduced-price meals? The application only takes a few minutes to complete. Your information will be kept safe and confidential and will only be used to determine your child's meal eligibility.
2022-2023 Meal Prices: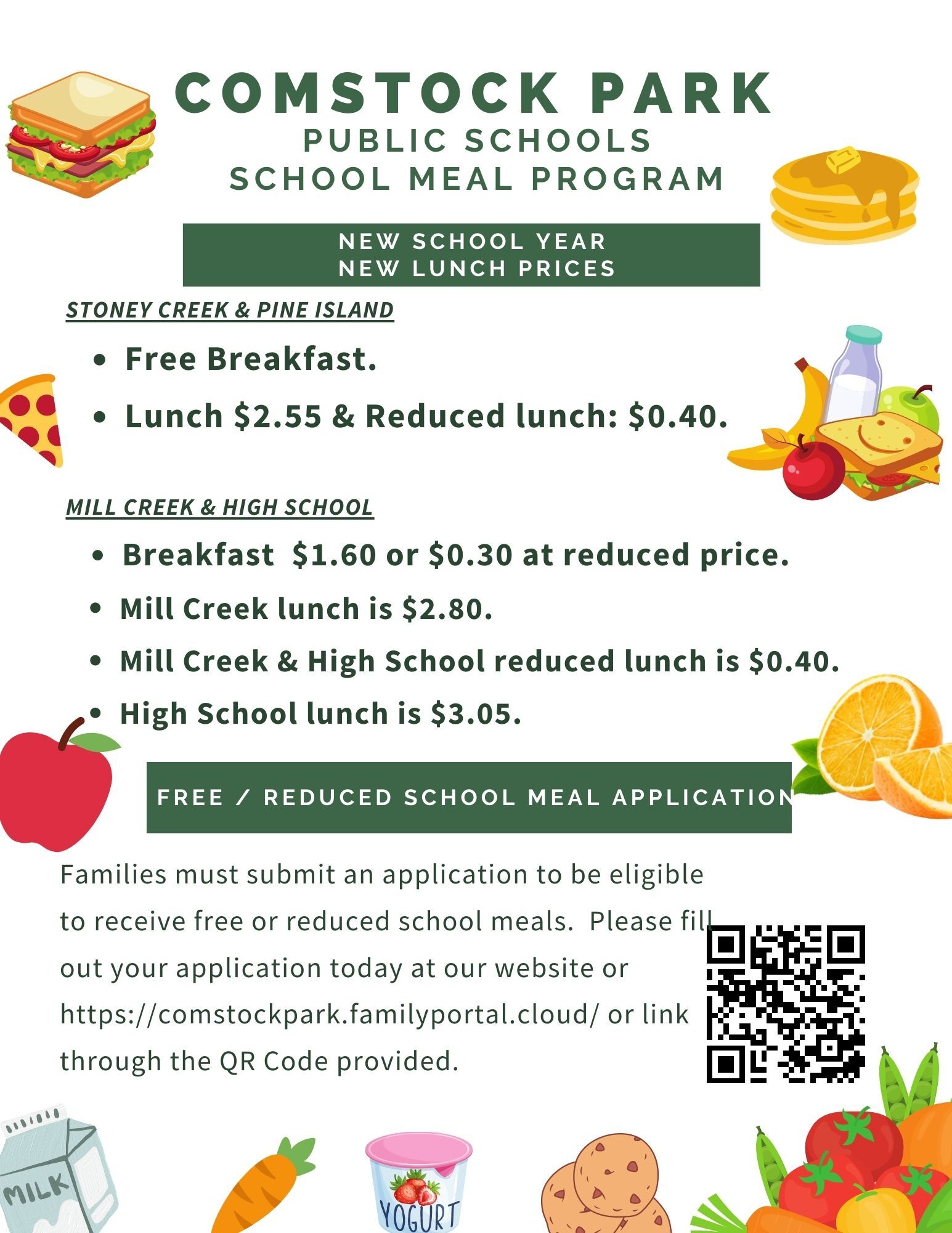 SPECIALS Information
STEM
Looking for a fun way to see what your student is doing in STEM class.... look no further. CP STEM has its own Facebook page where pictures and activities done throughout the week are posted for families to see. All you have to do is send CP STEM a Facebook friend request using the address below to access our page!
Music
Click on the links below to practice the songs and games you learned in Music with Mrs. Hite!!
Kindergarten Music with Mrs. Hite 2022-2023
1st Grade Music with Mrs. Hite 2022-2023
2nd Grade Music with Mrs. Hite 2022-2023
Mark your calendars for May 3 when our talented 2nd graders perform their musical entitled, "Bugz!" Dressed in costume as ladybugs, army ants, fireflies, bees, spiders, butterflies, our students are sure to entertain you with the story of how the stink bug can fit in with the other bugs. Students will be singing, acting, and dancing their way to a solution for everyone! 2nd graders need to arrive

at Comstock Park High School's Performing Arts Center at 150 6 Mile Comstock Park, MI 49321 at 5:45. Permission slips are being sent home March 7 and 8. Don't forget to return them to Mrs. Hite so we can make sure we have enough costumes!
Below are the links to practice:
STONEY CREEK MISSION:
Growing kind hearts & minds while inspiring personal success & embracing differences.
IMPORTANT INFORMATION
Attendance Line 254-5600 *Press 2 or email bpatin@cppschools.com.
Hours: 8:50 a.m. - 3:45 p.m.
*Drop off begins at 8:40 a.m. Students will go directly to their classrooms for breakfast.
Half Day Dismissal 12:05 p.m.
Office Hours 8:00 a.m. - 4:00 p.m.