Welcome to

Comstock Park Public Schools

Success for All
Calendar

Previous

December

2023

Next

S
M
T
W
T
F
S
1

Dec 1

2:45 PM to 4:30 PM

Girls Varsity Basketball Practice

Location:

Comstock Park High School - HS Gym

Calendar:

ML Schedules Calendar

Will cancel 5-7 time once approved

2:45 PM to 5:15 PM

Location:

Mill Creek Middle School - MC Cafeteria

Calendar:

ML Schedules Calendar

2:45 PM to 5:15 PM

Location:

Comstock Park High School - HS Mat Room

Calendar:

ML Schedules Calendar

2:45 PM to 7:00 PM

Location:

Mill Creek Middle School - Middle School Gym

Calendar:

ML Schedules Calendar

3:00 PM to 4:00 PM

Location:

Pine Island Elementary - PI Gym

Calendar:

ML Schedules Calendar

3:50 PM to 6:00 PM

Location:

Stoney Creek Elementary - SC Cafeteria, SC Classroom(s), SC Gym

Calendar:

ML Schedules Calendar

4:00 PM to 3:30 PM

Location:

Pine Island Elementary - PI Gym

Calendar:

ML Schedules Calendar

4:15 PM to 5:00 PM

Location:

Comstock Park High School - HS Weight Room

Calendar:

ML Schedules Calendar

5:00 PM to 7:00 PM

Girls Varsity Basketball Practice

Location:

Comstock Park High School - HS Gym

Calendar:

ML Schedules Calendar

5:00 PM to 2:00 PM

Location:

Pine Island Elementary - PI Cafeteria, PI Hallway(s), PI Media Center

Calendar:

ML Schedules Calendar

5:30 PM to 8:30 PM

Varsity Competitive Cheer(23-24) - Practice

Location:

Comstock Park High School - HS Mat Room

Calendar:

ML Schedules Calendar

6:00 PM to 8:00 PM

Level Up Basketball Training

Location:

Stoney Creek Elementary - SC Gym

Calendar:

ML Schedules Calendar

2

Dec 2

4:00 PM to 3:30 PM

Location:

Pine Island Elementary - PI Gym

Calendar:

ML Schedules Calendar

5:00 PM to 2:00 PM

Location:

Pine Island Elementary - PI Cafeteria, PI Hallway(s), PI Media Center

Calendar:

ML Schedules Calendar

9:00 AM to 10:30 AM

3rd & 4th Grade Youth Basketball

Location:

Comstock Park High School - HS Gym

Calendar:

ML Schedules Calendar

10:00 AM to 2:00 PM

Level Up Basketball Training

Location:

Mill Creek Middle School - Middle School Gym

Calendar:

ML Schedules Calendar

3

Dec 3

10:00 AM to 2:00 PM

Level Up Basketball Training

Location:

Mill Creek Middle School - Middle School Gym

Calendar:

ML Schedules Calendar

10:15 AM to 11:45 AM

Men's Basketball - Boyd Culver

Location:

Pine Island Elementary - PI Gym

Calendar:

ML Schedules Calendar

1:40 PM to 4:20 PM

Cub Scout Pack 3373 Pack/Den Meeting

Location:

Stoney Creek Elementary - SC Cafeteria

Calendar:

ML Schedules Calendar

5:00 PM to 6:30 PM

Location:

Comstock Park High School - HS Gym

Calendar:

ML Schedules Calendar

6:00 PM to 9:00 PM

Location:

Pine Island Elementary - PI Gym

Calendar:

ML Schedules Calendar

6:30 PM to 8:00 PM

Location:

Comstock Park High School - HS Gym

Calendar:

ML Schedules Calendar

4

Dec 4

2:45 PM to 5:15 PM

Location:

Mill Creek Middle School - MC Cafeteria

Calendar:

ML Schedules Calendar

2:45 PM to 5:15 PM

Location:

Comstock Park High School - HS Mat Room

Calendar:

ML Schedules Calendar

2:45 PM to 7:00 PM

Location:

Mill Creek Middle School - Middle School Gym

Calendar:

ML Schedules Calendar

3:00 PM to 4:00 PM

Location:

Pine Island Elementary - PI Gym

Calendar:

ML Schedules Calendar

3:00 PM to 5:00 PM

Freshman Boys Basketball Practice

Location:

Comstock Park High School - HS Gym

Calendar:

ML Schedules Calendar

3:50 PM to 6:00 PM

Location:

Stoney Creek Elementary - SC Cafeteria, SC Classroom(s), SC Gym

Calendar:

ML Schedules Calendar

5:00 PM to 7:00 PM

Girls JV basketball practice

Location:

Comstock Park High School - HS Aux Gym

Calendar:

ML Schedules Calendar

5:00 PM to 7:00 PM

Girls Varsity Basketball Practice

Location:

Comstock Park High School - HS Gym

Calendar:

ML Schedules Calendar

5:00 PM to 8:00 PM

Level Up Basketball Training

Location:

Pine Island Elementary - PI Gym

Calendar:

ML Schedules Calendar

5:30 PM to 8:30 PM

Varsity Competitive Cheer(23-24) - Practice

Location:

Comstock Park High School - HS Mat Room

Calendar:

ML Schedules Calendar

5:45 PM to 7:30 PM

All Star Driver Education

Location:

Comstock Park High School - HS Classroom Lab B110

Calendar:

ML Schedules Calendar

5:45 PM to 7:30 PM

All Star Driver Education

Location:

Comstock Park High School - Multiple Spaces

Calendar:

ML Schedules Calendar

6:15 PM to 8:00 PM

Location:

Comstock Park High School - HS Media Center

Calendar:

ML Schedules Calendar

7:00 PM to 9:00 PM

Boys Varsity Basketball Practice

Location:

Comstock Park High School - HS Gym

Calendar:

ML Schedules Calendar

7:00 PM to 9:00 PM

JV Boys Basketball Practice

Location:

Comstock Park High School - HS Aux Gym

Calendar:

ML Schedules Calendar

5

Dec 5

2:45 PM to 5:15 PM

Location:

Mill Creek Middle School - MC Cafeteria

Calendar:

ML Schedules Calendar

2:45 PM to 5:15 PM

Location:

Comstock Park High School - HS Mat Room

Calendar:

ML Schedules Calendar

2:45 PM to 7:00 PM

Location:

Mill Creek Middle School - Middle School Gym

Calendar:

ML Schedules Calendar

3:00 PM to 4:00 PM

Location:

Pine Island Elementary - PI Gym

Calendar:

ML Schedules Calendar

3:00 PM to 4:00 PM

Weight Training - Wes Cummings

Location:

Comstock Park High School - HS Weight Room

Calendar:

ML Schedules Calendar

3:00 PM to 5:00 PM

Freshman Boys Basketball Practice

Location:

Comstock Park High School - HS Gym

Calendar:

ML Schedules Calendar

3:50 PM to 6:00 PM

Location:

Stoney Creek Elementary - SC Cafeteria, SC Classroom(s), SC Gym

Calendar:

ML Schedules Calendar

5:00 PM to 7:00 PM

Girls Varsity Basketball Practice

Location:

Comstock Park High School - HS Gym

Calendar:

ML Schedules Calendar

5:00 PM to 8:00 PM

Level Up Basketball Training

Location:

Greenridge Elementary - GR Gym

Calendar:

ML Schedules Calendar

All basketball hoops down.

5:30 PM to 8:00 PM

Location:

Mill Creek Middle School - MC Cafeteria

Calendar:

ML Schedules Calendar

5:30 PM to 8:30 PM

Varsity Competitive Cheer(23-24) - Practice

Location:

Comstock Park High School - HS Mat Room

Calendar:

ML Schedules Calendar

5:45 PM to 7:30 PM

All Star Driver Education

Location:

Comstock Park High School - HS Driver Education Classroom D103

Calendar:

ML Schedules Calendar

5:45 PM to 7:30 PM

All Star Driver Education

Location:

Comstock Park High School - Multiple Spaces

Calendar:

ML Schedules Calendar

6:00 PM to 9:00 PM

Location:

Pine Island Elementary - PI Gym

Calendar:

ML Schedules Calendar

6:30 PM to 7:30 PM

MS/HS Holiday Choir Concert

Location:

Comstock Park High School - HS Auditorium, HS Auditorium Classrooms (A118-119), HS Auditorium Lobby,

Calendar:

ML Schedules Calendar

6:30 PM to 9:30 PM

Location:

Stoney Creek Elementary - SC Gym

Calendar:

ML Schedules Calendar

7:00 PM to 9:00 PM

Boys Varsity Basketball Practice

Location:

Comstock Park High School - HS Gym

Calendar:

ML Schedules Calendar

7:00 PM to 9:00 PM

CP Girls Youth Basketball Practice

Location:

Mill Creek Middle School - Middle School Gym

Calendar:

ML Schedules Calendar

6

Dec 6

2:45 PM to 5:15 PM

Location:

Mill Creek Middle School - MC Cafeteria

Calendar:

ML Schedules Calendar

2:45 PM to 5:15 PM

Location:

Comstock Park High School - HS Mat Room

Calendar:

ML Schedules Calendar

2:45 PM to 7:00 PM

Location:

Mill Creek Middle School - Middle School Gym

Calendar:

ML Schedules Calendar

3:00 PM to 4:00 PM

Location:

Pine Island Elementary - PI Gym

Calendar:

ML Schedules Calendar

3:00 PM to 5:00 PM

Freshman Boys Basketball Practice

Location:

Comstock Park High School - HS Gym

Calendar:

ML Schedules Calendar

3:50 PM to 6:00 PM

Location:

Stoney Creek Elementary - SC Cafeteria, SC Classroom(s), SC Gym

Calendar:

ML Schedules Calendar

4:00 PM to 6:45 PM

CP Band Fundraiser Pick Up

Location:

Comstock Park High School - HS Auditorium Lobby

Calendar:

ML Schedules Calendar

5:00 PM to 5:30 PM

Location:

Comstock Park High School - HS Weight Room

Calendar:

ML Schedules Calendar

5:00 PM to 7:00 PM

Boys Varsity Basketball Practice

Location:

Comstock Park High School - HS Gym

Calendar:

ML Schedules Calendar

5:00 PM to 7:00 PM

JV Boys Basketball Practice

Location:

Comstock Park High School - HS Aux Gym

Calendar:

ML Schedules Calendar

5:00 PM to 8:00 PM

Level Up Basketball Training

Location:

Pine Island Elementary - PI Gym

Calendar:

ML Schedules Calendar

5:30 PM to 8:30 PM

Varsity Competitive Cheer(23-24) - Practice

Location:

Comstock Park High School - HS Mat Room

Calendar:

ML Schedules Calendar

5:45 PM to 7:30 PM

All Star Driver Education

Location:

Comstock Park High School - HS Classroom Lab B110

Calendar:

ML Schedules Calendar

5:45 PM to 7:30 PM

All Star Driver Education

Location:

Comstock Park High School - Multiple Spaces

Calendar:

ML Schedules Calendar

6:30 PM to 9:30 PM

Location:

Stoney Creek Elementary - SC Gym

Calendar:

ML Schedules Calendar

7:00 PM to 7:30 PM

Location:

Mill Creek Middle School - Middle School Gym

Calendar:

ML Schedules Calendar

7:00 PM to 9:00 PM

Girls JV Basketball Practice

Location:

Comstock Park High School - HS Aux Gym

Calendar:

ML Schedules Calendar

7:00 PM to 9:00 PM

Girls Varsity Basketball Practice

Location:

Comstock Park High School - HS Gym

Calendar:

ML Schedules Calendar

7

Dec 7

7:45 AM to 8:30 PM

Pine Island's 5th Grade Musical

Location:

Comstock Park High School - HS Auditorium, HS Auditorium Classrooms (A118-119), HS Auditorium Lobby

Calendar:

ML Schedules Calendar

Need ...-2 wired microphones on stands (not boom) and lights for blackout scenes...-9 risers...-whiteboard on wheels with markers...-a student helper during daytime practice (time TBD) and same person to run lights/sound for nighttime performance at 6:00 p.m....-7 auditorium wheeled tables to go in the hallway.

2:45 PM to 5:15 PM

Location:

Mill Creek Middle School - MC Cafeteria

Calendar:

ML Schedules Calendar

2:45 PM to 5:15 PM

Location:

Comstock Park High School - HS Mat Room

Calendar:

ML Schedules Calendar

2:45 PM to 7:00 PM

Location:

Mill Creek Middle School - Middle School Gym

Calendar:

ML Schedules Calendar

3:00 PM to 4:00 PM

Location:

Pine Island Elementary - PI Gym

Calendar:

ML Schedules Calendar

3:00 PM to 4:00 PM

Weight Training - Wes Cummings

Location:

Comstock Park High School - HS Weight Room

Calendar:

ML Schedules Calendar

3:00 PM to 5:00 PM

Freshman Boys Basketball Practice

Location:

Comstock Park High School - HS Gym

Calendar:

ML Schedules Calendar

3:50 PM to 6:00 PM

Location:

Stoney Creek Elementary - SC Cafeteria, SC Classroom(s), SC Gym

Calendar:

ML Schedules Calendar

5:00 PM to 6:00 PM

Level Up Basketball Training

Location:

Greenridge Elementary - GR Gym

Calendar:

ML Schedules Calendar

5:00 PM to 7:00 PM

Boys Varsity Basketball Practice

Location:

Comstock Park High School - HS Gym

Calendar:

ML Schedules Calendar

5:30 PM to 8:00 PM

Location:

Mill Creek Middle School - MC Cafeteria

Calendar:

ML Schedules Calendar

5:30 PM to 8:30 PM

Varsity Competitive Cheer(23-24) - Practice

Location:

Comstock Park High School - HS Mat Room

Calendar:

ML Schedules Calendar

5:45 PM to 7:30 PM

All Star Driver Education

Location:

Comstock Park High School - HS Classroom Lab B110

Calendar:

ML Schedules Calendar

6:00 PM to 8:00 PM

Level Up Basketball Training

Location:

Stoney Creek Elementary - SC Gym

Calendar:

ML Schedules Calendar

6:00 PM to 9:00 PM

Location:

Pine Island Elementary - PI Gym

Calendar:

ML Schedules Calendar

6:30 PM to 9:00 PM

Location:

Comstock Park High School - HS Life Skills Classroom (A102)

Calendar:

ML Schedules Calendar

7:00 PM to 8:30 PM

Rocket Football Board meeting

Location:

Comstock Park High School - HS Media Center

Calendar:

ML Schedules Calendar

7:00 PM to 9:00 PM

CP Girls Youth Basketball Practice

Location:

Mill Creek Middle School - Middle School Gym

Calendar:

ML Schedules Calendar

7:00 PM to 9:00 PM

Girls Varsity Basketball Practice

Location:

Comstock Park High School - HS Gym

Calendar:

ML Schedules Calendar

8:00 PM to 9:30 PM

Basketball - Local Dads and friends

Location:

Stoney Creek Elementary - SC Gym

Calendar:

ML Schedules Calendar

8

Dec 8

2:45 PM to 5:15 PM

Location:

Mill Creek Middle School - MC Cafeteria

Calendar:

ML Schedules Calendar

2:45 PM to 5:15 PM

Location:

Comstock Park High School - HS Mat Room

Calendar:

ML Schedules Calendar

2:45 PM to 7:00 PM

Location:

Mill Creek Middle School - Middle School Gym

Calendar:

ML Schedules Calendar

3:00 PM to 4:00 PM

Location:

Pine Island Elementary - PI Gym

Calendar:

ML Schedules Calendar

3:50 PM to 6:00 PM

Location:

Stoney Creek Elementary - SC Cafeteria, SC Classroom(s), SC Gym

Calendar:

ML Schedules Calendar

5:00 PM to 8:00 PM

Level Up Basketball Training

Location:

Pine Island Elementary - PI Gym

Calendar:

ML Schedules Calendar

5:30 PM to 8:30 PM

Comstock Park HS/MS BKB G JV vs Cedar Springs

Location:

Comstock Park High School - HS Gym

Calendar:

ML Schedules Calendar

Facility: HS Gym Tickets: Sharon McLellan Fee: $0.00 Announcer: Sam Weatherwax Fee: $0.00 Book: Greg Madura Fee: $0.00 Clock: Rose Weatherwax Fee: $0.00 Clock: Denise Clement Fee: $0.00 Event Manager: Nate Gould Fee: $0.00 Visit https://comstockparkpanthers.com/main/event/scid/MI493219338/eventid/76160885 for more information!

Click here to watch this event live!

5:30 PM to 8:30 PM

Varsity Competitive Cheer(23-24) - Practice

Location:

Comstock Park High School - HS Mat Room

Calendar:

ML Schedules Calendar

7:00 PM to 10:00 PM

Comstock Park HS/MS BKB G V vs Cedar Springs

Location:

Comstock Park High School - HS Gym

Calendar:

ML Schedules Calendar

Facility: HS Gym Tickets: Sharon McLellan Fee: $0.00 Announcer: Sam Weatherwax Fee: $0.00 Book: Greg Madura Fee: $0.00 Clock: Rose Weatherwax Fee: $0.00 Clock: Denise Clement Fee: $0.00 Event Manager: Nate Gould Fee: $0.00 Visit https://comstockparkpanthers.com/main/event/scid/MI493219338/eventid/76160868 for more information!

Click here to watch this event live!

9

Dec 9

9:00 AM to 10:30 AM

3rd & 4th Grade Youth Basketball

Location:

Comstock Park High School - HS Gym

Calendar:

ML Schedules Calendar

10:00 AM to 2:00 PM

Level Up Basketball Training

Location:

Mill Creek Middle School - Middle School Gym

Calendar:

ML Schedules Calendar

11:00 AM to 12:00 PM

Location:

Pine Island Elementary - PI Gym

Calendar:

ML Schedules Calendar

11:00 AM to 3:00 PM

Girls Youth Basketball Games 5/6

Location:

Comstock Park High School - HS Gym

Calendar:

ML Schedules Calendar

12:30 PM to 2:00 PM

Location:

Pine Island Elementary - PI Gym

Calendar:

ML Schedules Calendar

5:00 PM to 8:00 PM

Location:

Comstock Park High School - HS Auditorium Lobby, HS Aux Gym, HS Cafeteria, HS Gym, HS Hallway(s), HS

Calendar:

ML Schedules Calendar

10

Dec 10

10:00 AM to 2:00 PM

Level Up Basketball Training

Location:

Mill Creek Middle School - Middle School Gym

Calendar:

ML Schedules Calendar

10:15 AM to 11:45 AM

Men's Basketball - Boyd Culver

Location:

Pine Island Elementary - PI Gym

Calendar:

ML Schedules Calendar

5:00 PM to 6:30 PM

Location:

Comstock Park High School - HS Gym

Calendar:

ML Schedules Calendar

6:00 PM to 9:00 PM

Location:

Pine Island Elementary - PI Gym

Calendar:

ML Schedules Calendar

6:30 PM to 8:00 PM

Location:

Comstock Park High School - HS Gym

Calendar:

ML Schedules Calendar

11

Dec 11

7:00 AM to 4:00 PM

Location:

Mill Creek Middle School - MC Board Room

Calendar:

ML Schedules Calendar

2:45 PM to 3:45 PM

Location:

Comstock Park High School - HS Media Center Flex Lab

Calendar:

ML Schedules Calendar

2:45 PM to 5:15 PM

Location:

Mill Creek Middle School - MC Cafeteria

Calendar:

ML Schedules Calendar

2:45 PM to 5:15 PM

Location:

Comstock Park High School - HS Mat Room

Calendar:

ML Schedules Calendar

2:45 PM to 7:00 PM

Location:

Mill Creek Middle School - Middle School Gym

Calendar:

ML Schedules Calendar

3:00 PM to 4:00 PM

Location:

Pine Island Elementary - PI Gym

Calendar:

ML Schedules Calendar

3:00 PM to 5:00 PM

Freshman Boys Basketball Practice

Location:

Comstock Park High School - HS Gym

Calendar:

ML Schedules Calendar

3:50 PM to 6:00 PM

Location:

Stoney Creek Elementary - SC Cafeteria, SC Classroom(s), SC Gym

Calendar:

ML Schedules Calendar

5:00 PM to 7:00 PM

Girls Varsity Basketball Practice

Location:

Comstock Park High School - HS Gym

Calendar:

ML Schedules Calendar

5:00 PM to 8:00 PM

Level Up Basketball Training

Location:

Pine Island Elementary - PI Gym

Calendar:

ML Schedules Calendar

5:30 PM to 8:30 PM

Varsity Competitive Cheer(23-24) - Practice

Location:

Comstock Park High School - HS Mat Room

Calendar:

ML Schedules Calendar

5:45 PM to 7:30 PM

All Star Driver Education

Location:

Comstock Park High School - HS Classroom Lab B110

Calendar:

ML Schedules Calendar

6:00 PM to 6:30 PM

MS and HS Bands Holiday Concert

Location:

Comstock Park High School - HS Auditorium, HS Auditorium Classrooms (A118-119), HS Auditorium Lobby,

Calendar:

ML Schedules Calendar

6:30 PM to 8:00 PM

Location:

Comstock Park High School - HS Media Center

Calendar:

ML Schedules Calendar

7:00 PM to 9:00 PM

Boys Varsity Basketball Practice

Location:

Comstock Park High School - HS Gym

Calendar:

ML Schedules Calendar

12

Dec 12

7:00 AM to 4:00 PM

Location:

Mill Creek Middle School - MC Board Room

Calendar:

ML Schedules Calendar

2:45 PM to 5:15 PM

Location:

Mill Creek Middle School - MC Cafeteria

Calendar:

ML Schedules Calendar

2:45 PM to 5:15 PM

Location:

Comstock Park High School - HS Mat Room

Calendar:

ML Schedules Calendar

2:45 PM to 7:00 PM

Location:

Mill Creek Middle School - Middle School Gym

Calendar:

ML Schedules Calendar

3:00 PM to 4:00 PM

Location:

Pine Island Elementary - PI Gym

Calendar:

ML Schedules Calendar

3:00 PM to 4:00 PM

Weight Training - Wes Cummings

Location:

Comstock Park High School - HS Weight Room

Calendar:

ML Schedules Calendar

3:50 PM to 6:00 PM

Location:

Stoney Creek Elementary - SC Cafeteria, SC Classroom(s), SC Gym

Calendar:

ML Schedules Calendar

4:00 PM to 7:00 PM

Comstock Park HS/MS BKB B FR vs Morley Stanwood HS

Location:

Comstock Park High School - HS Gym

Calendar:

ML Schedules Calendar

Facility: HS Gym Tickets: Sharon McLellan Fee: $0.00 Announcer: Sam Weatherwax Fee: $0.00 Clock: Rose Weatherwax Fee: $0.00 Clock: Denise Clement Fee: $0.00 Event Manager: Nate Gould Fee: $0.00 Book: Courtney Clement Fee: $0.00 Visit https://comstockparkpanthers.com/main/event/scid/MI493219338/eventid/76161041 for more information!

5:00 PM to 8:00 PM

Level Up Basketball Training

Location:

Greenridge Elementary - GR Gym

Calendar:

ML Schedules Calendar

All basketball hoops down.

5:30 PM to 8:00 PM

Location:

Mill Creek Middle School - MC Cafeteria

Calendar:

ML Schedules Calendar

5:30 PM to 8:30 PM

Comstock Park HS/MS BKB B JV vs Morley Stanwood HS

Location:

Comstock Park High School - HS Gym

Calendar:

ML Schedules Calendar

Facility: HS Gym Tickets: Sharon McLellan Fee: $0.00 Announcer: Sam Weatherwax Fee: $0.00 Book: Greg Madura Fee: $0.00 Clock: Rose Weatherwax Fee: $0.00 Clock: Denise Clement Fee: $0.00 Event Manager: Nate Gould Fee: $0.00 Visit https://comstockparkpanthers.com/main/event/scid/MI493219338/eventid/76161037 for more information!

Click here to watch this event live!

5:30 PM to 8:30 PM

Varsity Competitive Cheer(23-24) - Practice

Location:

Comstock Park High School - HS Mat Room

Calendar:

ML Schedules Calendar

5:45 PM to 7:30 PM

All Star Driver Education

Location:

Comstock Park High School - HS Classroom Lab B110

Calendar:

ML Schedules Calendar

6:00 PM to 9:00 PM

Location:

Pine Island Elementary - PI Gym

Calendar:

ML Schedules Calendar

6:30 PM to 7:30 PM

Location:

Pine Island Elementary - PI Media Center

Calendar:

ML Schedules Calendar

6:30 PM to 9:30 PM

Location:

Stoney Creek Elementary - SC Gym

Calendar:

ML Schedules Calendar

7:00 PM to 9:00 PM

CP Girls Youth Basketball Practice

Location:

Mill Creek Middle School - Middle School Gym

Calendar:

ML Schedules Calendar

7:00 PM to 10:00 PM

Comstock Park HS/MS BKB B V vs Morley Stanwood HS

Location:

Comstock Park High School - HS Gym

Calendar:

ML Schedules Calendar

Facility: HS Gym Official: Sharon McLellan Fee: $0.00 Announcer: Sam Weatherwax Fee: $0.00 Book: Greg Madura Fee: $0.00 Clock: Rose Weatherwax Fee: $0.00 Clock: Denise Clement Fee: $0.00 Visit https://comstockparkpanthers.com/main/event/scid/MI493219338/eventid/76161028 for more information!

Click here to watch this event live!

13

Dec 13

7:00 AM to 4:00 PM

Location:

Mill Creek Middle School - MC Board Room

Calendar:

ML Schedules Calendar

2:45 PM to 5:15 PM

Location:

Mill Creek Middle School - MC Cafeteria

Calendar:

ML Schedules Calendar

2:45 PM to 5:15 PM

Location:

Comstock Park High School - HS Mat Room

Calendar:

ML Schedules Calendar

2:45 PM to 7:00 PM

Location:

Mill Creek Middle School - Middle School Gym

Calendar:

ML Schedules Calendar

3:00 PM to 4:00 PM

Location:

Pine Island Elementary - PI Gym

Calendar:

ML Schedules Calendar

3:00 PM to 5:00 PM

Freshman Boys Basketball Practice

Location:

Comstock Park High School - HS Gym

Calendar:

ML Schedules Calendar

3:50 PM to 6:00 PM

Location:

Stoney Creek Elementary - SC Cafeteria, SC Classroom(s), SC Gym

Calendar:

ML Schedules Calendar

5:00 PM to 5:30 PM

Location:

Comstock Park High School - HS Weight Room

Calendar:

ML Schedules Calendar

5:00 PM to 7:00 PM

Boys Varsity Basketball Practice

Location:

Comstock Park High School - HS Gym

Calendar:

ML Schedules Calendar

5:00 PM to 7:00 PM

JV Boys Basketball Practice

Location:

Comstock Park High School - HS Aux Gym

Calendar:

ML Schedules Calendar

5:00 PM to 8:00 PM

Level Up Basketball Training

Location:

Pine Island Elementary - PI Gym

Calendar:

ML Schedules Calendar

5:30 PM to 8:30 PM

Varsity Competitive Cheer(23-24) - Practice

Location:

Comstock Park High School - HS Mat Room

Calendar:

ML Schedules Calendar

5:45 PM to 7:30 PM

All Star Driver Education

Location:

Comstock Park High School - HS Classroom Lab B110

Calendar:

ML Schedules Calendar

6:30 PM to 9:30 PM

Location:

Stoney Creek Elementary - SC Gym

Calendar:

ML Schedules Calendar

7:00 PM to 8:30 PM

Location:

Mill Creek Middle School - Middle School Gym

Calendar:

ML Schedules Calendar

7:00 PM to 9:00 PM

Girls JV Basketball Practice

Location:

Comstock Park High School - HS Aux Gym

Calendar:

ML Schedules Calendar

7:00 PM to 9:00 PM

Girls Varsity Basketball Practice

Location:

Comstock Park High School - HS Gym

Calendar:

ML Schedules Calendar

14

Dec 14

2:45 PM to 5:15 PM

Location:

Mill Creek Middle School - MC Cafeteria

Calendar:

ML Schedules Calendar

2:45 PM to 5:15 PM

Location:

Comstock Park High School - HS Mat Room

Calendar:

ML Schedules Calendar

2:45 PM to 7:00 PM

Location:

Mill Creek Middle School - Middle School Gym

Calendar:

ML Schedules Calendar

3:00 PM to 4:00 PM

Location:

Pine Island Elementary - PI Gym

Calendar:

ML Schedules Calendar

3:00 PM to 4:00 PM

Weight Training - Wes Cummings

Location:

Comstock Park High School - HS Weight Room

Calendar:

ML Schedules Calendar

3:00 PM to 5:00 PM

Freshman Boys Basketball Practice

Location:

Comstock Park High School - HS Gym

Calendar:

ML Schedules Calendar

3:30 PM to 4:30 PM

Location:

Pine Island Elementary - PI Media Center

Calendar:

ML Schedules Calendar

3:50 PM to 6:00 PM

Location:

Stoney Creek Elementary - SC Cafeteria, SC Classroom(s), SC Gym

Calendar:

ML Schedules Calendar

5:00 PM to 7:00 PM

Boys Varsity Basketball Practice

Location:

Comstock Park High School - HS Gym

Calendar:

ML Schedules Calendar

5:00 PM to 7:00 PM

JV Boys Basketball Practice

Location:

Comstock Park High School - HS Aux Gym

Calendar:

ML Schedules Calendar

5:30 PM to 8:00 PM

Location:

Mill Creek Middle School - MC Cafeteria

Calendar:

ML Schedules Calendar

5:30 PM to 8:30 PM

Varsity Competitive Cheer(23-24) - Practice

Location:

Comstock Park High School - HS Mat Room

Calendar:

ML Schedules Calendar

5:45 PM to 7:30 PM

All Star Driver Education

Location:

Comstock Park High School - HS Classroom Lab B110

Calendar:

ML Schedules Calendar

6:00 PM to 8:00 PM

Level Up Basketball Training

Location:

Stoney Creek Elementary - SC Gym

Calendar:

ML Schedules Calendar

6:00 PM to 9:00 PM

Location:

Pine Island Elementary - PI Gym

Calendar:

ML Schedules Calendar

7:00 PM to 9:00 PM

CP Girls Youth Basketball Practice

Location:

Mill Creek Middle School - Middle School Gym

Calendar:

ML Schedules Calendar

7:00 PM to 9:00 PM

Girls JV Basketball Practice

Location:

Comstock Park High School - HS Aux Gym

Calendar:

ML Schedules Calendar

7:00 PM to 9:00 PM

Girls Varsity Basketball Practice

Location:

Comstock Park High School - HS Gym

Calendar:

ML Schedules Calendar

8:00 PM to 9:30 PM

Basketball - Local Dads and friends

Location:

Stoney Creek Elementary - SC Gym

Calendar:

ML Schedules Calendar

15

Dec 15

2:45 PM to 5:15 PM

Location:

Mill Creek Middle School - MC Cafeteria

Calendar:

ML Schedules Calendar

2:45 PM to 5:15 PM

Location:

Comstock Park High School - HS Mat Room

Calendar:

ML Schedules Calendar

2:45 PM to 7:00 PM

Location:

Mill Creek Middle School - Middle School Gym

Calendar:

ML Schedules Calendar

3:00 PM to 4:00 PM

Location:

Pine Island Elementary - PI Gym

Calendar:

ML Schedules Calendar

3:50 PM to 6:00 PM

Location:

Stoney Creek Elementary - SC Cafeteria, SC Classroom(s), SC Gym

Calendar:

ML Schedules Calendar

5:00 PM to 8:00 PM

Level Up Basketball Training

Location:

Pine Island Elementary - PI Gym

Calendar:

ML Schedules Calendar

5:30 PM to 8:30 PM

Comstock Park HS/MS BKB G JV vs Big Rapids High School

Location:

Comstock Park High School - HS Gym

Calendar:

ML Schedules Calendar

Facility: HS Gym Tickets: Sharon McLellan Fee: $0.00 Announcer: Sam Weatherwax Fee: $0.00 Book: Greg Madura Fee: $0.00 Clock: Rose Weatherwax Fee: $0.00 Clock: Denise Clement Fee: $0.00 Event Manager: Nate Gould Fee: $0.00 Visit https://comstockparkpanthers.com/main/event/scid/MI493219338/eventid/76228587 for more information!

5:30 PM to 8:30 PM

Varsity Competitive Cheer(23-24) - Practice

Location:

Comstock Park High School - HS Mat Room

Calendar:

ML Schedules Calendar

7:00 PM to 10:00 PM

Comstock Park HS/MS BKB G V vs Big Rapids High School

Location:

Comstock Park High School - HS Gym

Calendar:

ML Schedules Calendar

Facility: HS Gym Tickets: Sharon McLellan Fee: $0.00 Announcer: Sam Weatherwax Fee: $0.00 Book: Greg Madura Fee: $0.00 Clock: Rose Weatherwax Fee: $0.00 Clock: Denise Clement Fee: $0.00 Event Manager: Nate Gould Fee: $0.00 Visit https://comstockparkpanthers.com/main/event/scid/MI493219338/eventid/76228582 for more information!

Click here to watch this event live!

16

Dec 16

9:00 AM to 10:30 AM

3rd & 4th Grade Youth Basketball

Location:

Comstock Park High School - HS Gym

Calendar:

ML Schedules Calendar

10:00 AM to 2:00 PM

Level Up Basketball Training

Location:

Mill Creek Middle School - Middle School Gym

Calendar:

ML Schedules Calendar

11:00 AM to 12:00 PM

Location:

Pine Island Elementary - PI Gym

Calendar:

ML Schedules Calendar

12:30 PM to 2:00 PM

Location:

Pine Island Elementary - PI Gym

Calendar:

ML Schedules Calendar

17

Dec 17

10:00 AM to 2:00 PM

Level Up Basketball Training

Location:

Mill Creek Middle School - Middle School Gym

Calendar:

ML Schedules Calendar

10:15 AM to 11:45 AM

Men's Basketball - Boyd Culver

Location:

Pine Island Elementary - PI Gym

Calendar:

ML Schedules Calendar

1:40 PM to 4:20 PM

Cub Scout Pack 3373 Pack/Den Meeting

Location:

Stoney Creek Elementary - SC Cafeteria

Calendar:

ML Schedules Calendar

5:00 PM to 6:30 PM

Location:

Comstock Park High School - HS Gym

Calendar:

ML Schedules Calendar

6:00 PM to 9:00 PM

Location:

Pine Island Elementary - PI Gym

Calendar:

ML Schedules Calendar

6:30 PM to 8:00 PM

Location:

Comstock Park High School - HS Gym

Calendar:

ML Schedules Calendar

18

Dec 18

7:45 AM to 2:45 PM

Location:

Comstock Park High School - HS Media Center Flex Lab

Calendar:

ML Schedules Calendar

2:45 PM to 5:15 PM

Location:

Mill Creek Middle School - MC Cafeteria

Calendar:

ML Schedules Calendar

2:45 PM to 5:15 PM

Location:

Comstock Park High School - HS Mat Room

Calendar:

ML Schedules Calendar

2:45 PM to 7:00 PM

Location:

Mill Creek Middle School - Middle School Gym

Calendar:

ML Schedules Calendar

3:00 PM to 4:00 PM

Location:

Pine Island Elementary - PI Gym

Calendar:

ML Schedules Calendar

3:00 PM to 5:00 PM

Freshman Boys Basketball Practice

Location:

Comstock Park High School - HS Gym

Calendar:

ML Schedules Calendar

3:50 PM to 6:00 PM

Location:

Stoney Creek Elementary - SC Cafeteria, SC Classroom(s), SC Gym

Calendar:

ML Schedules Calendar

5:00 PM to 7:00 PM

Girls JV Basketball Practice

Location:

Comstock Park High School - HS Aux Gym

Calendar:

ML Schedules Calendar

5:00 PM to 7:00 PM

Girls Varsity Basketball Practice

Location:

Comstock Park High School - HS Gym

Calendar:

ML Schedules Calendar

5:00 PM to 8:00 PM

Level Up Basketball Training

Location:

Pine Island Elementary - PI Gym

Calendar:

ML Schedules Calendar

5:30 PM to 8:30 PM

Varsity Competitive Cheer(23-24) - Practice

Location:

Comstock Park High School - HS Mat Room

Calendar:

ML Schedules Calendar

7:00 PM to 8:00 PM

Board of Education Meeting

Location:

Mill Creek Middle School - MC Board Room

Calendar:

ML Schedules Calendar

7:00 PM to 9:00 PM

Boys Varsity Basketball Practice

Location:

Comstock Park High School - HS Gym

Calendar:

ML Schedules Calendar

7:00 PM to 9:00 PM

JV Boys Basketball Practice

Location:

Comstock Park High School - HS Aux Gym

Calendar:

ML Schedules Calendar

19

Dec 19

2:45 PM to 5:15 PM

Location:

Mill Creek Middle School - MC Cafeteria

Calendar:

ML Schedules Calendar

2:45 PM to 5:15 PM

Location:

Comstock Park High School - HS Mat Room

Calendar:

ML Schedules Calendar

2:45 PM to 7:00 PM

Location:

Mill Creek Middle School - Middle School Gym

Calendar:

ML Schedules Calendar

3:00 PM to 4:00 PM

Location:

Pine Island Elementary - PI Gym

Calendar:

ML Schedules Calendar

3:00 PM to 4:00 PM

Weight Training - Wes Cummings

Location:

Comstock Park High School - HS Weight Room

Calendar:

ML Schedules Calendar

3:50 PM to 6:00 PM

Location:

Stoney Creek Elementary - SC Cafeteria, SC Classroom(s), SC Gym

Calendar:

ML Schedules Calendar

4:00 PM to 7:00 PM

Comstock Park HS/MS BKB B FR vs Fruitport High School

Location:

Comstock Park High School - HS Gym

Calendar:

ML Schedules Calendar

Facility: HS Gym Announcer: Sam Weatherwax Fee: $0.00 Scorer: Rose Weatherwax Fee: $0.00 Book: Courtney Clement Fee: $0.00 Visit https://comstockparkpanthers.com/main/event/scid/MI493219338/eventid/76368865 for more information!

5:00 PM to 8:00 PM

Level Up Basketball Training

Location:

Greenridge Elementary - GR Gym

Calendar:

ML Schedules Calendar

All basketball hoops down.

5:30 PM to 8:00 PM

Location:

Mill Creek Middle School - MC Cafeteria

Calendar:

ML Schedules Calendar

5:30 PM to 8:30 PM

Comstock Park HS/MS BKB B JV vs Fruitport High School

Location:

Comstock Park High School - HS Gym

Calendar:

ML Schedules Calendar

Facility: HS Gym Announcer: Sam Weatherwax Fee: $0.00 Book: Greg Madura Fee: $0.00 Clock: Rose Weatherwax Fee: $0.00 Event Manager: Nate Gould Fee: $0.00 Clock: Courtney Clement Fee: $0.00 Visit https://comstockparkpanthers.com/main/event/scid/MI493219338/eventid/76368864 for more information!

Click here to watch this event live!

5:30 PM to 8:30 PM

Varsity Competitive Cheer(23-24) - Practice

Location:

Comstock Park High School - HS Mat Room

Calendar:

ML Schedules Calendar

6:00 PM to 9:00 PM

Location:

Pine Island Elementary - PI Gym

Calendar:

ML Schedules Calendar

6:30 PM to 9:30 PM

Location:

Stoney Creek Elementary - SC Gym

Calendar:

ML Schedules Calendar

7:00 PM to 10:00 PM

Comstock Park HS/MS BKB B V vs Fruitport High School

Location:

Comstock Park High School - HS Gym

Calendar:

ML Schedules Calendar

Facility: HS Gym Tickets: Sharon McLellan Fee: $0.00 Announcer: Sam Weatherwax Fee: $0.00 Book: Greg Madura Fee: $0.00 Clock: Rose Weatherwax Fee: $0.00 Event Manager: Nate Gould Fee: $0.00 Clock: Courtney Clement Fee: $0.00 Visit https://comstockparkpanthers.com/main/event/scid/MI493219338/eventid/76368848 for more information!

Click here to watch this event live!

20

Dec 20

1:00 PM to 3:00 PM

Location:

Mill Creek Middle School - Middle School Gym

Calendar:

ML Schedules Calendar

2:45 PM to 5:15 PM

Location:

Mill Creek Middle School - MC Cafeteria

Calendar:

ML Schedules Calendar

2:45 PM to 5:15 PM

Location:

Comstock Park High School - HS Mat Room

Calendar:

ML Schedules Calendar

3:00 PM to 4:00 PM

Location:

Pine Island Elementary - PI Gym

Calendar:

ML Schedules Calendar

3:00 PM to 7:00 PM

Location:

Mill Creek Middle School - Middle School Gym

Calendar:

ML Schedules Calendar

3:50 PM to 6:00 PM

Location:

Stoney Creek Elementary - SC Cafeteria, SC Classroom(s), SC Gym

Calendar:

ML Schedules Calendar

5:00 PM to 5:30 PM

Location:

Comstock Park High School - HS Weight Room

Calendar:

ML Schedules Calendar

5:00 PM to 7:00 PM

JV Boys Basketball Practice

Location:

Comstock Park High School - HS Aux Gym

Calendar:

ML Schedules Calendar

5:00 PM to 8:00 PM

Comstock Park HS/MS WR B V vs Greenville Public Schools (CP Dual)

Location:

Comstock Park High School - HS Gym

Calendar:

ML Schedules Calendar

Facility: HS Gym Event Manager: Nate Gould Fee: $0.00 Tickets: Samantha Rogalski Fee: $0.00 Visit https://comstockparkpanthers.com/main/event/scid/MI493219338/eventid/76871546 for more information!

Click here to watch this event live!

5:00 PM to 8:00 PM

Level Up Basketball Training

Location:

Pine Island Elementary - PI Gym

Calendar:

ML Schedules Calendar

5:30 PM to 8:30 PM

Varsity Competitive Cheer(23-24) - Practice

Location:

Comstock Park High School - HS Mat Room

Calendar:

ML Schedules Calendar

7:00 PM to 9:00 PM

Girls JV Basketball Practice

Location:

Comstock Park High School - HS Aux Gym

Calendar:

ML Schedules Calendar

21

Dec 21

7:30 AM to 12:00 PM

Half Day of School for Students

Location:

All Sites - All Spaces

Calendar:

ML Schedules Calendar

2:45 PM to 5:15 PM

Location:

Mill Creek Middle School - MC Cafeteria

Calendar:

ML Schedules Calendar

2:45 PM to 5:15 PM

Location:

Comstock Park High School - HS Mat Room

Calendar:

ML Schedules Calendar

2:45 PM to 7:00 PM

Location:

Mill Creek Middle School - Middle School Gym

Calendar:

ML Schedules Calendar

3:00 PM to 4:00 PM

Location:

Pine Island Elementary - PI Gym

Calendar:

ML Schedules Calendar

3:00 PM to 4:00 PM

Weight Training - Wes Cummings

Location:

Comstock Park High School - HS Weight Room

Calendar:

ML Schedules Calendar

3:00 PM to 5:00 PM

Freshman Boys Basketball Practice

Location:

Comstock Park High School - HS Gym

Calendar:

ML Schedules Calendar

3:50 PM to 6:00 PM

Location:

Stoney Creek Elementary - SC Cafeteria, SC Classroom(s), SC Gym

Calendar:

ML Schedules Calendar

5:00 PM to 7:00 PM

Boys Varsity Basketball Practice

Location:

Comstock Park High School - HS Gym

Calendar:

ML Schedules Calendar

5:00 PM to 7:00 PM

JV Boys Basketball Practice

Location:

Comstock Park High School - HS Aux Gym

Calendar:

ML Schedules Calendar

5:30 PM to 8:00 PM

Location:

Mill Creek Middle School - MC Cafeteria

Calendar:

ML Schedules Calendar

5:30 PM to 8:30 PM

Varsity Competitive Cheer(23-24) - Practice

Location:

Comstock Park High School - HS Mat Room

Calendar:

ML Schedules Calendar

6:00 PM to 8:00 PM

Location:

Pine Island Elementary - PI Cafeteria

Calendar:

ML Schedules Calendar

N/A...I do still have a Key Fob from last year.

6:00 PM to 8:00 PM

Level Up Basketball Training

Location:

Stoney Creek Elementary - SC Gym

Calendar:

ML Schedules Calendar

6:00 PM to 9:00 PM

Location:

Pine Island Elementary - PI Gym

Calendar:

ML Schedules Calendar

7:00 PM to 9:00 PM

Girls JV Basketball Practice

Location:

Comstock Park High School - HS Aux Gym

Calendar:

ML Schedules Calendar

7:00 PM to 9:00 PM

Girls Varsity Basketball Practice

Location:

Comstock Park High School - HS Gym

Calendar:

ML Schedules Calendar

8:00 PM to 9:30 PM

Basketball - Local Dads and friends

Location:

Stoney Creek Elementary - SC Gym

Calendar:

ML Schedules Calendar

22

Dec 22

7:30 AM to 12:00 PM

Half Day of School for Students

Location:

All Sites - All Spaces

Calendar:

ML Schedules Calendar

2:45 PM to 5:15 PM

Location:

Mill Creek Middle School - MC Cafeteria

Calendar:

ML Schedules Calendar

2:45 PM to 5:15 PM

Location:

Comstock Park High School - HS Mat Room

Calendar:

ML Schedules Calendar

2:45 PM to 7:00 PM

Location:

Mill Creek Middle School - Middle School Gym

Calendar:

ML Schedules Calendar

3:00 PM to 4:00 PM

Location:

Pine Island Elementary - PI Gym

Calendar:

ML Schedules Calendar

3:50 PM to 6:00 PM

Location:

Stoney Creek Elementary - SC Cafeteria, SC Classroom(s), SC Gym

Calendar:

ML Schedules Calendar

5:00 PM to 8:00 PM

Level Up Basketball Training

Location:

Pine Island Elementary - PI Gym

Calendar:

ML Schedules Calendar

5:30 PM to 8:30 PM

Comstock Park HS/MS BKB G JV vs Greenville Public Schools

Location:

Comstock Park High School - HS Gym

Calendar:

ML Schedules Calendar

Facility: HS Gym Tickets: Sharon McLellan Fee: $0.00 Announcer: Sam Weatherwax Fee: $0.00 Book: Greg Madura Fee: $0.00 Clock: Rose Weatherwax Fee: $0.00 Clock: Denise Clement Fee: $0.00 Event Manager: Nate Gould Fee: $0.00 Visit https://comstockparkpanthers.com/main/event/scid/MI493219338/eventid/76160974 for more information!

Click here to watch this event live!

5:30 PM to 8:30 PM

Varsity Competitive Cheer(23-24) - Practice

Location:

Comstock Park High School - HS Mat Room

Calendar:

ML Schedules Calendar

7:00 PM to 10:00 PM

Comstock Park HS/MS BKB G V vs Greenville Public Schools

Location:

Comstock Park High School - HS Gym

Calendar:

ML Schedules Calendar

Facility: HS Gym Tickets: Sharon McLellan Fee: $0.00 Announcer: Sam Weatherwax Fee: $0.00 Book: Greg Madura Fee: $0.00 Clock: Rose Weatherwax Fee: $0.00 Clock: Denise Clement Fee: $0.00 Event Manager: Nate Gould Fee: $0.00 Visit https://comstockparkpanthers.com/main/event/scid/MI493219338/eventid/76160963 for more information!

Click here to watch this event live!

23

Dec 23

10:00 AM to 2:00 PM

Level Up Basketball Training

Location:

Mill Creek Middle School - Middle School Gym

Calendar:

ML Schedules Calendar

11:00 AM to 12:00 PM

Location:

Pine Island Elementary - PI Gym

Calendar:

ML Schedules Calendar

24

Dec 24

10:00 AM to 2:00 PM

Level Up Basketball Training

Location:

Mill Creek Middle School - Middle School Gym

Calendar:

ML Schedules Calendar

10:15 AM to 11:45 AM

Men's Basketball - Boyd Culver

Location:

Pine Island Elementary - PI Gym

Calendar:

ML Schedules Calendar

5:00 PM to 6:30 PM

Location:

Comstock Park High School - HS Gym

Calendar:

ML Schedules Calendar

6:00 PM to 9:00 PM

Location:

Pine Island Elementary - PI Gym

Calendar:

ML Schedules Calendar

6:30 PM to 8:00 PM

Location:

Comstock Park High School - HS Gym

Calendar:

ML Schedules Calendar

25

Dec 25

Holiday Vacation No School

Location:

All Sites - All Spaces

Calendar:

ML Schedules Calendar

2:45 PM to 5:15 PM

Location:

Comstock Park High School - HS Mat Room

Calendar:

ML Schedules Calendar

3:00 PM to 4:00 PM

Location:

Pine Island Elementary - PI Gym

Calendar:

ML Schedules Calendar

3:50 PM to 6:00 PM

Location:

Stoney Creek Elementary - SC Cafeteria, SC Classroom(s), SC Gym

Calendar:

ML Schedules Calendar

5:00 PM to 8:00 PM

Level Up Basketball Training

Location:

Pine Island Elementary - PI Gym

Calendar:

ML Schedules Calendar

5:30 PM to 8:30 PM

Varsity Competitive Cheer(23-24) - Practice

Location:

Comstock Park High School - HS Mat Room

Calendar:

ML Schedules Calendar

7:00 PM to 9:00 PM

Boys Varsity Basketball Practice

Location:

Comstock Park High School - HS Gym

Calendar:

ML Schedules Calendar

26

Dec 26

Holiday Vacation No School

Location:

All Sites - All Spaces

Calendar:

ML Schedules Calendar

2:45 PM to 5:15 PM

Location:

Comstock Park High School - HS Mat Room

Calendar:

ML Schedules Calendar

3:00 PM to 4:00 PM

Location:

Pine Island Elementary - PI Gym

Calendar:

ML Schedules Calendar

3:00 PM to 4:00 PM

Weight Training - Wes Cummings

Location:

Comstock Park High School - HS Weight Room

Calendar:

ML Schedules Calendar

3:50 PM to 6:00 PM

Location:

Stoney Creek Elementary - SC Cafeteria, SC Classroom(s), SC Gym

Calendar:

ML Schedules Calendar

5:00 PM to 8:00 PM

Level Up Basketball Training

Location:

Greenridge Elementary - GR Gym

Calendar:

ML Schedules Calendar

All basketball hoops down.

5:30 PM to 8:30 PM

Varsity Competitive Cheer(23-24) - Practice

Location:

Comstock Park High School - HS Mat Room

Calendar:

ML Schedules Calendar

6:00 PM to 8:00 PM

Level Up Basketball Training

Location:

Stoney Creek Elementary - SC Gym

Calendar:

ML Schedules Calendar

6:00 PM to 9:00 PM

Location:

Pine Island Elementary - PI Gym

Calendar:

ML Schedules Calendar

7:00 PM to 9:00 PM

Boys Varsity Basketball Practice

Location:

Comstock Park High School - HS Gym

Calendar:

ML Schedules Calendar

27

Dec 27

Holiday Vacation No School

Location:

All Sites - All Spaces

Calendar:

ML Schedules Calendar

2:45 PM to 5:15 PM

Location:

Comstock Park High School - HS Mat Room

Calendar:

ML Schedules Calendar

3:00 PM to 4:00 PM

Location:

Pine Island Elementary - PI Gym

Calendar:

ML Schedules Calendar

3:00 PM to 5:00 PM

Freshman Boys Basketball Practice

Location:

Comstock Park High School - HS Gym

Calendar:

ML Schedules Calendar

3:50 PM to 6:00 PM

Location:

Stoney Creek Elementary - SC Cafeteria, SC Classroom(s), SC Gym

Calendar:

ML Schedules Calendar

5:00 PM to 7:00 PM

Boys Varsity Basketball Practice

Location:

Comstock Park High School - HS Gym

Calendar:

ML Schedules Calendar

5:00 PM to 7:00 PM

JV Boys Basketball Practice

Location:

Comstock Park High School - HS Aux Gym

Calendar:

ML Schedules Calendar

5:00 PM to 8:00 PM

Level Up Basketball Training

Location:

Pine Island Elementary - PI Gym

Calendar:

ML Schedules Calendar

5:30 PM to 8:30 PM

Varsity Competitive Cheer(23-24) - Practice

Location:

Comstock Park High School - HS Mat Room

Calendar:

ML Schedules Calendar

28

Dec 28

Holiday Vacation No School

Location:

All Sites - All Spaces

Calendar:

ML Schedules Calendar

10:00 AM to 12:00 PM

Girls Varsity Basketball Practice

Location:

Comstock Park High School - HS Gym

Calendar:

ML Schedules Calendar

2:45 PM to 5:15 PM

Location:

Comstock Park High School - HS Mat Room

Calendar:

ML Schedules Calendar

3:00 PM to 4:00 PM

Location:

Pine Island Elementary - PI Gym

Calendar:

ML Schedules Calendar

3:00 PM to 4:00 PM

Weight Training - Wes Cummings

Location:

Comstock Park High School - HS Weight Room

Calendar:

ML Schedules Calendar

3:00 PM to 5:00 PM

Freshman Boys Basketball Practice

Location:

Comstock Park High School - HS Gym

Calendar:

ML Schedules Calendar

3:50 PM to 6:00 PM

Location:

Stoney Creek Elementary - SC Cafeteria, SC Classroom(s), SC Gym

Calendar:

ML Schedules Calendar

5:00 PM to 7:00 PM

Boys Varsity Basketball Practice

Location:

Comstock Park High School - HS Gym

Calendar:

ML Schedules Calendar

5:00 PM to 7:00 PM

JV Boys Basketball Practice

Location:

Comstock Park High School - HS Aux Gym

Calendar:

ML Schedules Calendar

5:30 PM to 8:30 PM

Varsity Competitive Cheer(23-24) - Practice

Location:

Comstock Park High School - HS Mat Room

Calendar:

ML Schedules Calendar

6:00 PM to 8:00 PM

Level Up Basketball Training

Location:

Stoney Creek Elementary - SC Gym

Calendar:

ML Schedules Calendar

6:00 PM to 9:00 PM

Location:

Pine Island Elementary - PI Gym

Calendar:

ML Schedules Calendar

29

Dec 29

Holiday Vacation No School

Location:

All Sites - All Spaces

Calendar:

ML Schedules Calendar

2:45 PM to 5:15 PM

Location:

Comstock Park High School - HS Mat Room

Calendar:

ML Schedules Calendar

3:00 PM to 4:00 PM

Location:

Pine Island Elementary - PI Gym

Calendar:

ML Schedules Calendar

3:00 PM to 5:00 PM

Freshman Boys Basketball Practice

Location:

Comstock Park High School - HS Gym

Calendar:

ML Schedules Calendar

3:50 PM to 6:00 PM

Location:

Stoney Creek Elementary - SC Cafeteria, SC Classroom(s), SC Gym

Calendar:

ML Schedules Calendar

5:00 PM to 7:00 PM

Boys Varsity Basketball Practice

Location:

Comstock Park High School - HS Gym

Calendar:

ML Schedules Calendar

5:00 PM to 8:00 PM

Level Up Basketball Training

Location:

Pine Island Elementary - PI Gym

Calendar:

ML Schedules Calendar

5:30 PM to 8:30 PM

Varsity Competitive Cheer(23-24) - Practice

Location:

Comstock Park High School - HS Mat Room

Calendar:

ML Schedules Calendar

30

Dec 30

10:00 AM to 2:00 PM

Level Up Basketball Training

Location:

Mill Creek Middle School - Middle School Gym

Calendar:

ML Schedules Calendar

11:00 AM to 12:00 PM

Location:

Pine Island Elementary - PI Gym

Calendar:

ML Schedules Calendar

31

Dec 31

10:00 AM to 2:00 PM

Level Up Basketball Training

Location:

Mill Creek Middle School - Middle School Gym

Calendar:

ML Schedules Calendar

10:15 AM to 11:45 AM

Men's Basketball - Boyd Culver

Location:

Pine Island Elementary - PI Gym

Calendar:

ML Schedules Calendar

1:40 PM to 4:20 PM

Cub Scout Pack 3373 Pack/Den Meeting

Location:

Stoney Creek Elementary - SC Cafeteria

Calendar:

ML Schedules Calendar

4:00 PM to 8:00 PM

Location:

Pine Island Elementary - PI Gym

Calendar:

ML Schedules Calendar

5:00 PM to 6:30 PM

Location:

Comstock Park High School - HS Gym

Calendar:

ML Schedules Calendar

6:30 PM to 8:00 PM

Location:

Comstock Park High School - HS Gym

Calendar:

ML Schedules Calendar
3rd & 4th Grade Youth Basketball

Time:

9:00 AM to 10:30 AM

Location:

Comstock Park High School - HS Gym

Calendar:

ML Schedules Calendar
December 1, 2023
A rockstar resource officer
For Deputy Julie Brown, being a school resource officer it is all about making connections and building bridges to help students on the right path.
November 29, 2023
Food directors honored for enhancing school meals, student choices
These food service directors have made student-choice a priority in creating school meals.
CP Strategic Plan 2022-2027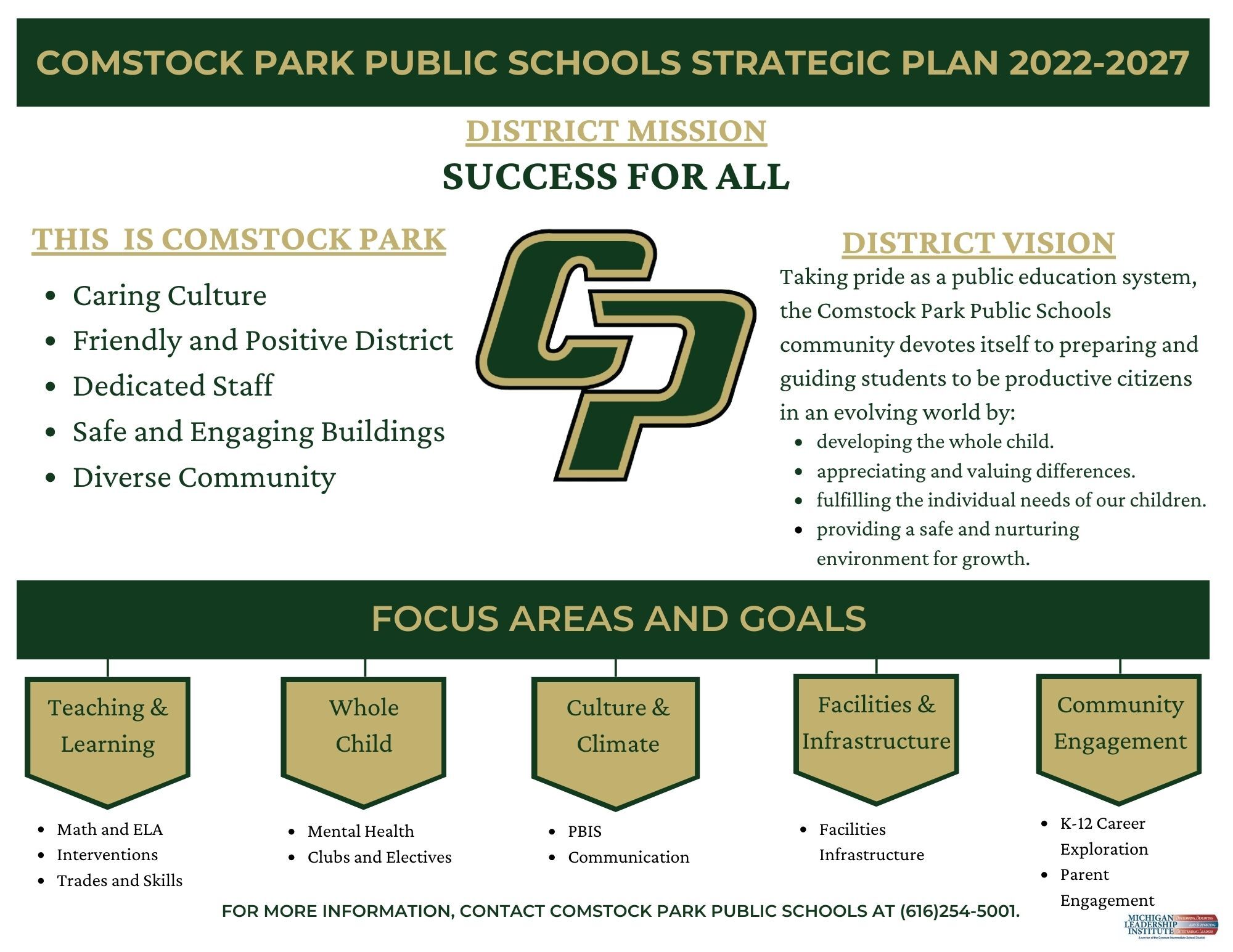 New Volunteer Form
Please fill out a new volunteer form for the 2022-2023 school year. A new form needs to be completed each school year and will expire on June 30, 2023.
Lunch Benefits
Click here to apply for free and reduced lunch benefits. Students must have an approved application to be eligible for free or reduced lunch beginning again for 22/23.
Athletics
COVID-19 2022-2023 School Year
Vision
Taking pride as a public education system, the Comstock Park Public Schools community devotes itself to preparing and guiding students to be productive citizens in an evolving world by:
developing the whole child.
appreciating and valuing differences.
fulfilling the individual needs of our children.
providing a safe and nurturing environment for growth.
If you have questions or have an ADA complaint to file, please email the following Compliance Officer at the following address - dwashburn@cppschools.com