Welcome to

Comstock Park Public Schools

Success for All
Calendar

Previous

June

2023

Next

S
M
T
W
T
F
S
1

Jun 1

Half Day of School for Students

Location:

Comstock Park Public Schools - All Spaces

Calendar:

ML Schedules Calendar

HALF DAY DISMISSAL TIMES:

...

HIGH SCHOOL - 11:15 A.M.

...

MILL CREEK - 11:00 A.M.

...

PINE ISLAND - 11:50 A.M.

...

STONEY CREEK - 12:05 P.M.

10:00 AM to 10:00 PM

Location:

Comstock Park High School - HS Stadium

Calendar:

ML Schedules Calendar

3:00 PM to 4:00 PM

Location:

Pine Island Elementary - PI Gym

Calendar:

ML Schedules Calendar

3:45 PM to 5:15 PM

Varsity Girls Soccer Practice

Location:

Comstock Park High School - HS Stadium

Calendar:

ML Schedules Calendar

5:00 PM to 8:00 PM

Level Up Basketball Training

Location:

Mill Creek Middle School - Middle School Gym

Calendar:

ML Schedules Calendar

5:00 PM to 9:00 PM

Location:

Pine Island Elementary - PI East Practice Field, PI West Practice Field

Calendar:

ML Schedules Calendar

5:30 PM to 8:30 PM

Youth Lacrosse Practices and Games

Location:

Comstock Park High School - HS North Practice Field

Calendar:

ML Schedules Calendar

6:00 PM to 7:00 PM

Band Disney Trip Parent Meeting

Location:

Comstock Park High School - HS Media Center

Calendar:

ML Schedules Calendar

6:00 PM to 8:00 PM

Comstock Park HS/MS SOC G V vs TBA (Division 4 MHSAA Finals)

Location:

Comstock Park High School - HS Stadium

Calendar:

ML Schedules Calendar

Facility: HS Stadium Event Mng.: Zach Stuberg Fee: $0.00 Event Mng.: Austin Mora Fee: $0.00 Announcer: Kari Fuller Fee: $0.00 Visit https://comstockparkpanthers.com/main/event/scid/MI493219338/eventid/76479500 for more information!

Click here to watch this event live!

6:00 PM to 9:00 PM

Location:

Pine Island Elementary - PI Gym

Calendar:

ML Schedules Calendar

6:00 PM to 10:00 PM

All Star Driver Education Instructor Prep Classes

Location:

Comstock Park High School - HS Classroom Lab B110

Calendar:

ML Schedules Calendar

6:45 PM to 9:00 PM

Location:

Comstock Park High School - HS Life Skills Classroom (A102)

Calendar:

ML Schedules Calendar

2

Jun 2

Half Day/Last Day of School for Students

Location:

All Sites - All Spaces

Calendar:

ML Schedules Calendar

9:30 AM to 12:15 PM

Location:

Comstock Park High School - HS Classroom(s)

Calendar:

ML Schedules Calendar

GRBS Pre summer meeting in room D104....Participants will need to enter through front office.

10:00 AM to 10:00 PM

Location:

Comstock Park High School - HS Stadium

Calendar:

ML Schedules Calendar

3:00 PM to 4:00 PM

Location:

Pine Island Elementary - PI Gym

Calendar:

ML Schedules Calendar

3:45 PM to 5:15 PM

Varsity Girls Soccer Practice

Location:

Comstock Park High School - HS Stadium

Calendar:

ML Schedules Calendar

5:00 PM to 8:00 PM

Level Up Basketball Training

Location:

Mill Creek Middle School - Middle School Gym

Calendar:

ML Schedules Calendar

5:30 PM to 8:30 PM

Youth Lacrosse Practices and Games

Location:

Comstock Park High School - HS North Practice Field

Calendar:

ML Schedules Calendar

3

Jun 3

8:00 AM to 5:00 PM

Youth Lacrosse Games for 3rd -4th graders

Location:

Comstock Park High School - HS North Practice Field

Calendar:

ML Schedules Calendar

10:00 AM to 3:00 PM

Level Up Basketball Training

Location:

Mill Creek Middle School - Middle School Gym

Calendar:

ML Schedules Calendar

Please put all hoops down.

10:00 AM to 6:30 PM

All Star Driver Education Instructor Prep Classes

Location:

Comstock Park High School - HS Classroom Lab B110

Calendar:

ML Schedules Calendar

10:00 AM to 10:00 PM

Location:

Comstock Park High School - HS Stadium

Calendar:

ML Schedules Calendar

1:00 PM to 4:00 PM

Warren Cody's Graduation Party

Location:

Stoney Creek Elementary - SC Cafeteria

Calendar:

ML Schedules Calendar

4

Jun 4

8:10 AM to 10:00 AM

Location:

Comstock Park High School - HS Gym

Calendar:

ML Schedules Calendar

10:00 AM to 12:00 PM

Location:

Pine Island Elementary - PI Gym

Calendar:

ML Schedules Calendar

10:00 AM to 3:00 PM

Level Up Basketball Training

Location:

Mill Creek Middle School - Middle School Gym

Calendar:

ML Schedules Calendar

6:00 PM to 9:00 PM

Location:

Pine Island Elementary - PI Gym

Calendar:

ML Schedules Calendar

5

Jun 5

7:00 AM to 11:00 PM

Floor re-finish - NO ACCESS

Location:

Comstock Park High School - HS Gym, Middle School Gym, PI Gym

Calendar:

ML Schedules Calendar

9:00 AM to 11:00 AM

All Star Driver Education

Location:

Comstock Park High School - HS Classroom Lab B110

Calendar:

ML Schedules Calendar

5:00 PM to 8:00 PM

Level Up Basketball Training

Location:

Stoney Creek Elementary - SC Gym

Calendar:

ML Schedules Calendar

6:00 PM to 8:00 PM

Location:

Comstock Park High School - HS Stadium

Calendar:

ML Schedules Calendar

6:15 PM to 8:15 PM

Location:

Comstock Park High School - HS Media Center

Calendar:

ML Schedules Calendar

6

Jun 6

7:00 AM to 7:30 AM

Floor re-finish - NO ACCESS

Location:

Comstock Park High School - HS Gym, Middle School Gym, PI Gym

Calendar:

ML Schedules Calendar

9:00 AM to 11:00 AM

All Star Driver Education

Location:

Comstock Park High School - HS Classroom Lab B110

Calendar:

ML Schedules Calendar

9:00 AM to 11:00 AM

Volleyball Weight Training

Location:

Comstock Park High School - HS Weight Room

Calendar:

ML Schedules Calendar

5:00 PM to 8:00 PM

Level Up Basketball Training

Location:

Mill Creek Middle School - Middle School Gym

Calendar:

ML Schedules Calendar

6:00 PM to 8:00 PM

Location:

Comstock Park High School - HS Stadium

Calendar:

ML Schedules Calendar

6:00 PM to 9:00 PM

Location:

Pine Island Elementary - PI Gym

Calendar:

ML Schedules Calendar

6:00 PM to 10:00 PM

All Star Driver Education Instructor Prep Classes

Location:

Comstock Park High School - HS Classroom Lab B110

Calendar:

ML Schedules Calendar

7:00 PM to 8:30 PM

Location:

Comstock Park High School - HS Cafeteria

Calendar:

ML Schedules Calendar

Portable microphone may work best.

7

Jun 7

7:00 AM to 7:30 AM

Floor re-finish - NO ACCESS

Location:

Comstock Park High School - HS Gym, Middle School Gym, PI Gym

Calendar:

ML Schedules Calendar

9:00 AM to 11:00 AM

All Star Driver Education

Location:

Comstock Park High School - HS Classroom Lab B110

Calendar:

ML Schedules Calendar

5:00 PM to 8:00 PM

Level Up Basketball Training

Location:

Mill Creek Middle School - Middle School Gym

Calendar:

ML Schedules Calendar

6:00 PM to 8:00 PM

CP Lacrosse 3rd/4th Grade end of season party

Location:

Mill Creek Middle School - MC Cafeteria

Calendar:

ML Schedules Calendar

6:00 PM to 8:00 PM

Location:

Comstock Park High School - HS Stadium

Calendar:

ML Schedules Calendar

6:00 PM to 8:30 PM

All Conference Coaches Meeting

Location:

Comstock Park High School - HS Media Center, HS Media Center Flex Lab

Calendar:

ML Schedules Calendar

8

Jun 8

7:00 AM to 11:00 PM

Floor re-finish - NO ACCESS

Location:

Comstock Park High School - HS Gym, Middle School Gym, PI Gym

Calendar:

ML Schedules Calendar

9:00 AM to 11:00 AM

All Star Driver Education

Location:

Comstock Park High School - HS Classroom Lab B110

Calendar:

ML Schedules Calendar

9:00 AM to 11:00 AM

Volleyball Weight Training

Location:

Comstock Park High School - HS Weight Room

Calendar:

ML Schedules Calendar

5:00 PM to 8:00 PM

Level Up Basketball Training

Location:

Stoney Creek Elementary - SC Gym

Calendar:

ML Schedules Calendar

5:00 PM to 9:00 PM

Location:

Comstock Park High School - HS Stadium

Calendar:

ML Schedules Calendar

6:00 PM to 10:00 PM

All Star Driver Education Instructor Prep Classes

Location:

Comstock Park High School - HS Classroom Lab B110

Calendar:

ML Schedules Calendar

8:00 PM to 9:30 PM

Basketball - Local Dads and friends

Location:

Stoney Creek Elementary - SC Gym

Calendar:

ML Schedules Calendar

9

Jun 9

7:00 AM to 11:00 PM

Floor re-finish - NO ACCESS

Location:

Comstock Park High School - HS Gym, Middle School Gym, PI Gym

Calendar:

ML Schedules Calendar

5:00 PM to 8:00 PM

Level Up Basketball Training

Location:

Stoney Creek Elementary - SC Gym

Calendar:

ML Schedules Calendar

10

Jun 10

7:00 AM to 11:00 PM

Floor re-finish - NO ACCESS

Location:

Comstock Park High School - HS Gym, Middle School Gym, PI Gym

Calendar:

ML Schedules Calendar

10:00 AM to 3:00 PM

Level Up Basketball Training

Location:

Stoney Creek Elementary - SC Gym

Calendar:

ML Schedules Calendar

11

Jun 11

7:00 AM to 11:00 PM

Floor re-finish - NO ACCESS

Location:

Comstock Park High School - HS Gym, Middle School Gym, PI Gym

Calendar:

ML Schedules Calendar

10:00 AM to 3:00 PM

Level Up Basketball Training

Location:

Stoney Creek Elementary - SC Gym

Calendar:

ML Schedules Calendar

12

Jun 12

7:00 AM to 11:00 PM

Floor re-finish - NO ACCESS

Location:

Comstock Park High School - HS Gym, Middle School Gym, PI Gym

Calendar:

ML Schedules Calendar

8:00 AM to 4:00 PM

Location:

Comstock Park High School - HS Auditorium, HS Aux Gym

Calendar:

ML Schedules Calendar

Small table for paperwork, microphone, screen down

9:00 AM to 11:00 AM

All Star Driver Education

Location:

Comstock Park High School - HS Classroom Lab B110

Calendar:

ML Schedules Calendar

11:00 AM to 1:00 PM

All Star Driver Education

Location:

Comstock Park High School - HS Classroom Lab B110

Calendar:

ML Schedules Calendar

5:00 PM to 8:00 PM

Level Up Basketball Training

Location:

Stoney Creek Elementary - SC Gym

Calendar:

ML Schedules Calendar

7:00 PM to 9:00 PM

Location:

Comstock Park High School - HS Stadium

Calendar:

ML Schedules Calendar

13

Jun 13

7:10 AM to 8:50 AM

Location:

Comstock Park High School - HS Gym

Calendar:

ML Schedules Calendar

8:00 AM to 4:00 PM

Location:

Comstock Park High School - HS Auditorium, HS Aux Gym

Calendar:

ML Schedules Calendar

Small table for paperwork, microphone, screen down

9:00 AM to 11:00 AM

All Star Driver Education

Location:

Comstock Park High School - HS Classroom Lab B110

Calendar:

ML Schedules Calendar

9:00 AM to 11:00 AM

Volleyball Weight Training

Location:

Comstock Park High School - HS Weight Room

Calendar:

ML Schedules Calendar

9:30 AM to 1:30 PM

Location:

Comstock Park High School - HS Gym

Calendar:

ML Schedules Calendar

Youth camp 10-11:30...Girls HS camp 11:45-1:30

11:00 AM to 1:00 PM

All Star Driver Education

Location:

Comstock Park High School - HS Classroom Lab B110

Calendar:

ML Schedules Calendar

5:00 PM to 8:00 PM

Level Up Basketball Training

Location:

Mill Creek Middle School - Middle School Gym

Calendar:

ML Schedules Calendar

6:00 PM to 9:00 PM

Location:

Pine Island Elementary - PI Gym

Calendar:

ML Schedules Calendar

6:00 PM to 10:00 PM

All Star Driver Education Instructor Prep Classes

Location:

Comstock Park High School - HS Classroom Lab B110

Calendar:

ML Schedules Calendar

7:00 PM to 9:00 PM

Boy's Soccer Training/Conditioning

Location:

Comstock Park High School - HS Stadium

Calendar:

ML Schedules Calendar

14

Jun 14

7:10 AM to 8:50 AM

Location:

Comstock Park High School - HS Gym

Calendar:

ML Schedules Calendar

8:00 AM to 4:00 PM

Location:

Comstock Park High School - HS Auditorium, HS Aux Gym

Calendar:

ML Schedules Calendar

Small table for paperwork, microphone, screen down

9:00 AM to 11:00 AM

All Star Driver Education

Location:

Comstock Park High School - HS Classroom Lab B110

Calendar:

ML Schedules Calendar

9:30 AM to 1:30 PM

Location:

Comstock Park High School - HS Gym

Calendar:

ML Schedules Calendar

Youth camp 10-11:30...Girls HS camp 11:45-1:30

11:00 AM to 1:00 PM

All Star Driver Education

Location:

Comstock Park High School - HS Classroom Lab B110

Calendar:

ML Schedules Calendar

5:00 PM to 8:00 PM

Level Up Basketball Training

Location:

Mill Creek Middle School - Middle School Gym

Calendar:

ML Schedules Calendar

7:00 PM to 9:00 PM

Boy's Soccer Training/Conditioning

Location:

Comstock Park High School - HS Stadium

Calendar:

ML Schedules Calendar

15

Jun 15

7:10 AM to 8:50 AM

Location:

Comstock Park High School - HS Gym

Calendar:

ML Schedules Calendar

8:00 AM to 12:00 PM

Location:

Comstock Park High School - HS Auditorium, HS Aux Gym

Calendar:

ML Schedules Calendar

Small table for paperwork, microphone, screen down

9:00 AM to 11:00 AM

All Star Driver Education

Location:

Comstock Park High School - HS Classroom Lab B110

Calendar:

ML Schedules Calendar

9:00 AM to 11:00 AM

Volleyball Weight Training

Location:

Comstock Park High School - HS Weight Room

Calendar:

ML Schedules Calendar

9:30 AM to 1:30 PM

Location:

Comstock Park High School - HS Gym

Calendar:

ML Schedules Calendar

Youth camp 10-11:30...Girls HS camp 11:45-1:30

5:00 PM to 8:00 PM

Level Up Basketball Training

Location:

Mill Creek Middle School - Middle School Gym

Calendar:

ML Schedules Calendar

6:00 PM to 9:00 PM

Location:

Pine Island Elementary - PI Gym

Calendar:

ML Schedules Calendar

6:00 PM to 10:00 PM

All Star Driver Education Instructor Prep Classes

Location:

Comstock Park High School - HS Classroom Lab B110

Calendar:

ML Schedules Calendar

7:00 PM to 9:00 PM

Boy's Soccer Training/Conditioning

Location:

Comstock Park High School - HS Stadium

Calendar:

ML Schedules Calendar

8:00 PM to 9:30 PM

Basketball - Local Dads and friends

Location:

Stoney Creek Elementary - SC Gym

Calendar:

ML Schedules Calendar

16

Jun 16

7:10 AM to 8:50 AM

Location:

Comstock Park High School - HS Aux Gym

Calendar:

ML Schedules Calendar

5:00 PM to 8:00 PM

Level Up Basketball Training

Location:

Mill Creek Middle School - Middle School Gym

Calendar:

ML Schedules Calendar

17

Jun 17

10:00 AM to 3:00 PM

Level Up Basketball Training

Location:

Mill Creek Middle School - Middle School Gym

Calendar:

ML Schedules Calendar

10:00 AM to 5:30 PM

All Star Driver Education Instructor Prep Classes

Location:

Comstock Park High School - HS Classroom Lab B110

Calendar:

ML Schedules Calendar

18

Jun 18

10:00 AM to 12:00 PM

Location:

Pine Island Elementary - PI Gym

Calendar:

ML Schedules Calendar

10:00 AM to 3:00 PM

Level Up Basketball Training

Location:

Mill Creek Middle School - Middle School Gym

Calendar:

ML Schedules Calendar

6:00 PM to 9:00 PM

Location:

Pine Island Elementary - PI Gym

Calendar:

ML Schedules Calendar

19

Jun 19

7:40 AM to 9:50 AM

Location:

Comstock Park High School - HS Gym

Calendar:

ML Schedules Calendar

9:00 AM to 11:00 AM

All Star Driver Education

Location:

Comstock Park High School - HS Classroom Lab B110

Calendar:

ML Schedules Calendar

5:00 PM to 8:00 PM

Level Up Basketball Training

Location:

Mill Creek Middle School - Middle School Gym

Calendar:

ML Schedules Calendar

6:00 PM to 8:00 PM

Location:

Comstock Park High School - HS Stadium

Calendar:

ML Schedules Calendar

7:00 PM to 8:30 PM

Board of Education Meeting

Location:

Mill Creek Middle School - MC Board Room

Calendar:

ML Schedules Calendar

7:00 PM to 9:00 PM

Location:

Comstock Park High School - HS Stadium-East Grass

Calendar:

ML Schedules Calendar

20

Jun 20

7:40 AM to 9:50 AM

Location:

Comstock Park High School - HS Gym

Calendar:

ML Schedules Calendar

9:00 AM to 11:00 AM

All Star Driver Education

Location:

Comstock Park High School - HS Classroom Lab B110

Calendar:

ML Schedules Calendar

9:00 AM to 11:00 AM

Volleyball Weight Training

Location:

Comstock Park High School - HS Weight Room

Calendar:

ML Schedules Calendar

10:00 AM to 12:00 PM

Girls Basketball Workouts

Location:

Comstock Park High School - HS Gym

Calendar:

ML Schedules Calendar

5:00 PM to 8:00 PM

Level Up Basketball Training

Location:

Mill Creek Middle School - Middle School Gym

Calendar:

ML Schedules Calendar

5:30 PM to 9:00 PM

Location:

Comstock Park High School - HS Stadium

Calendar:

ML Schedules Calendar

6:00 PM to 9:00 PM

Location:

Pine Island Elementary - PI Gym

Calendar:

ML Schedules Calendar

6:00 PM to 10:00 PM

All Star Driver Education Instructor Prep Classes

Location:

Comstock Park High School - HS Classroom Lab B110

Calendar:

ML Schedules Calendar

7:00 PM to 9:00 PM

Location:

Comstock Park High School - HS Stadium-East Grass

Calendar:

ML Schedules Calendar

21

Jun 21

7:40 AM to 9:50 AM

Location:

Comstock Park High School - HS Gym

Calendar:

ML Schedules Calendar

9:00 AM to 11:00 AM

All Star Driver Education

Location:

Comstock Park High School - HS Classroom Lab B110

Calendar:

ML Schedules Calendar

5:00 PM to 8:00 PM

Level Up Basketball Training

Location:

Mill Creek Middle School - Middle School Gym

Calendar:

ML Schedules Calendar

7:00 PM to 9:00 PM

Boy's Soccer Training/Conditioning

Location:

Comstock Park High School - HS Stadium

Calendar:

ML Schedules Calendar

22

Jun 22

7:40 AM to 9:50 AM

Location:

Comstock Park High School - HS Gym

Calendar:

ML Schedules Calendar

9:00 AM to 11:00 AM

All Star Driver Education

Location:

Comstock Park High School - HS Classroom Lab B110

Calendar:

ML Schedules Calendar

9:00 AM to 11:00 AM

Volleyball Weight Training

Location:

Comstock Park High School - HS Weight Room

Calendar:

ML Schedules Calendar

10:00 AM to 12:00 PM

Girls Basketball Workouts

Location:

Comstock Park High School - HS Gym

Calendar:

ML Schedules Calendar

5:00 PM to 8:00 PM

Level Up Basketball Training

Location:

Mill Creek Middle School - Middle School Gym

Calendar:

ML Schedules Calendar

5:00 PM to 9:00 PM

Location:

Comstock Park High School - HS Stadium

Calendar:

ML Schedules Calendar

6:00 PM to 9:00 PM

Location:

Pine Island Elementary - PI Gym

Calendar:

ML Schedules Calendar

6:00 PM to 10:00 PM

All Star Driver Education Instructor Prep Classes

Location:

Comstock Park High School - HS Classroom Lab B110

Calendar:

ML Schedules Calendar

8:00 PM to 9:30 PM

Basketball - Local Dads and friends

Location:

Stoney Creek Elementary - SC Gym

Calendar:

ML Schedules Calendar

23

Jun 23

5:00 PM to 8:00 PM

Level Up Basketball Training

Location:

Mill Creek Middle School - Middle School Gym

Calendar:

ML Schedules Calendar

24

Jun 24

10:00 AM to 3:00 PM

Level Up Basketball Training

Location:

Mill Creek Middle School - Middle School Gym

Calendar:

ML Schedules Calendar

10:00 AM to 5:30 PM

All Star Driver Education Instructor Prep Classes

Location:

Comstock Park High School - HS Classroom Lab B110

Calendar:

ML Schedules Calendar

25

Jun 25

10:00 AM to 12:00 PM

Location:

Pine Island Elementary - PI Gym

Calendar:

ML Schedules Calendar

10:00 AM to 3:00 PM

Level Up Basketball Training

Location:

Mill Creek Middle School - Middle School Gym

Calendar:

ML Schedules Calendar

6:00 PM to 9:00 PM

Location:

Pine Island Elementary - PI Gym

Calendar:

ML Schedules Calendar

26

Jun 26

5:00 PM to 8:00 PM

Level Up Basketball Training

Location:

Mill Creek Middle School - Middle School Gym

Calendar:

ML Schedules Calendar

6:00 PM to 8:00 PM

Location:

Comstock Park High School - HS Stadium

Calendar:

ML Schedules Calendar

7:00 PM to 9:00 PM

Location:

Comstock Park High School - HS Stadium-East Grass

Calendar:

ML Schedules Calendar

27

Jun 27

8:10 AM to 9:50 AM

Location:

Comstock Park High School - HS Gym

Calendar:

ML Schedules Calendar

9:00 AM to 11:00 AM

Volleyball Weight Training

Location:

Comstock Park High School - HS Weight Room

Calendar:

ML Schedules Calendar

10:00 AM to 12:00 PM

Girls Basketball Workouts

Location:

Comstock Park High School - HS Gym

Calendar:

ML Schedules Calendar

5:00 PM to 8:00 PM

Level Up Basketball Training

Location:

Mill Creek Middle School - Middle School Gym

Calendar:

ML Schedules Calendar

6:00 PM to 9:00 PM

Location:

Pine Island Elementary - PI Gym

Calendar:

ML Schedules Calendar

6:00 PM to 10:00 PM

All Star Driver Education Instructor Prep Classes

Location:

Comstock Park High School - HS Classroom Lab B110

Calendar:

ML Schedules Calendar

7:00 PM to 9:00 PM

Boy's Soccer Training/Conditioning

Location:

Comstock Park High School - HS Stadium

Calendar:

ML Schedules Calendar

28

Jun 28

9:10 AM to 10:50 AM

Location:

Comstock Park High School - HS Gym

Calendar:

ML Schedules Calendar

5:00 PM to 8:00 PM

Level Up Basketball Training

Location:

Mill Creek Middle School - Middle School Gym

Calendar:

ML Schedules Calendar

7:00 PM to 9:00 PM

Boy's Soccer Training/Conditioning

Location:

Comstock Park High School - HS Stadium

Calendar:

ML Schedules Calendar

29

Jun 29

8:10 AM to 9:50 AM

Location:

Comstock Park High School - HS Gym

Calendar:

ML Schedules Calendar

9:00 AM to 11:00 AM

Volleyball Weight Training

Location:

Comstock Park High School - HS Weight Room

Calendar:

ML Schedules Calendar

10:00 AM to 12:00 PM

Girls Basketball Workouts

Location:

Comstock Park High School - HS Gym

Calendar:

ML Schedules Calendar

5:00 PM to 8:00 PM

Level Up Basketball Training

Location:

Mill Creek Middle School - Middle School Gym

Calendar:

ML Schedules Calendar

6:00 PM to 9:00 PM

Location:

Pine Island Elementary - PI Gym

Calendar:

ML Schedules Calendar

7:00 PM to 9:00 PM

Boy's Soccer Training/Conditioning

Location:

Comstock Park High School - HS Stadium

Calendar:

ML Schedules Calendar

8:00 PM to 9:30 PM

Basketball - Local Dads and friends

Location:

Stoney Creek Elementary - SC Gym

Calendar:

ML Schedules Calendar

30

Jun 30

5:00 PM to 8:00 PM

Level Up Basketball Training

Location:

Mill Creek Middle School - Middle School Gym

Calendar:

ML Schedules Calendar
May 22, 2023
Teacher's mom makes positive impact in kindergarten classroom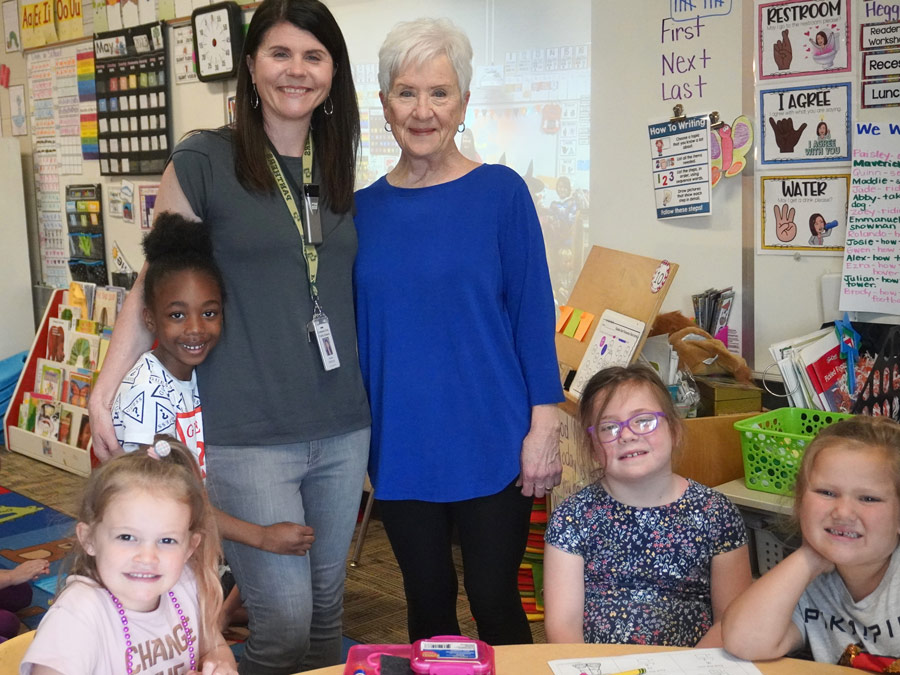 A teacher and her volunteer mom team up to benefit Stoney Creek kindergartners...
May 5, 2023
Voters approve bond proposals, millage renewals in six Kent ISD districts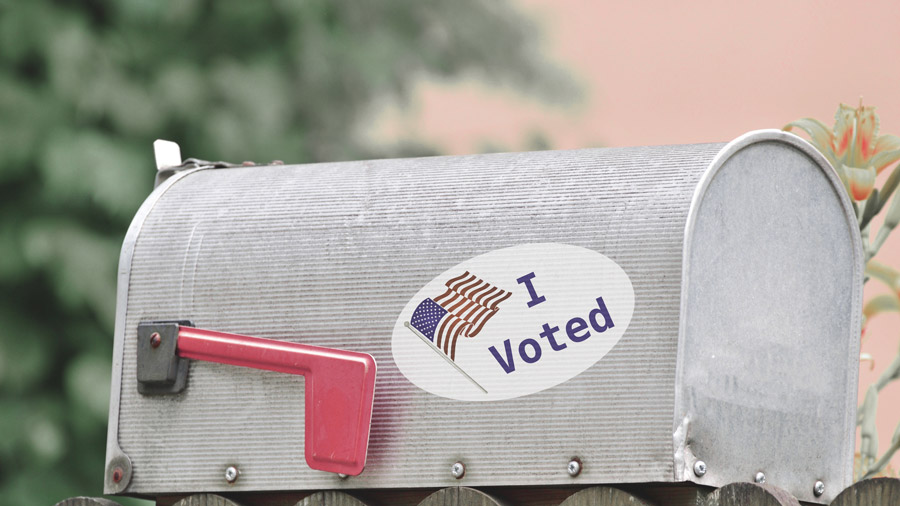 Tuesday's Election Day turned out to be a good day for education in Kent County, with voters passing bond issues, sinking funds and/or operating millages in all six districts with ballot proposals...
CP Strategic Plan 2022-2027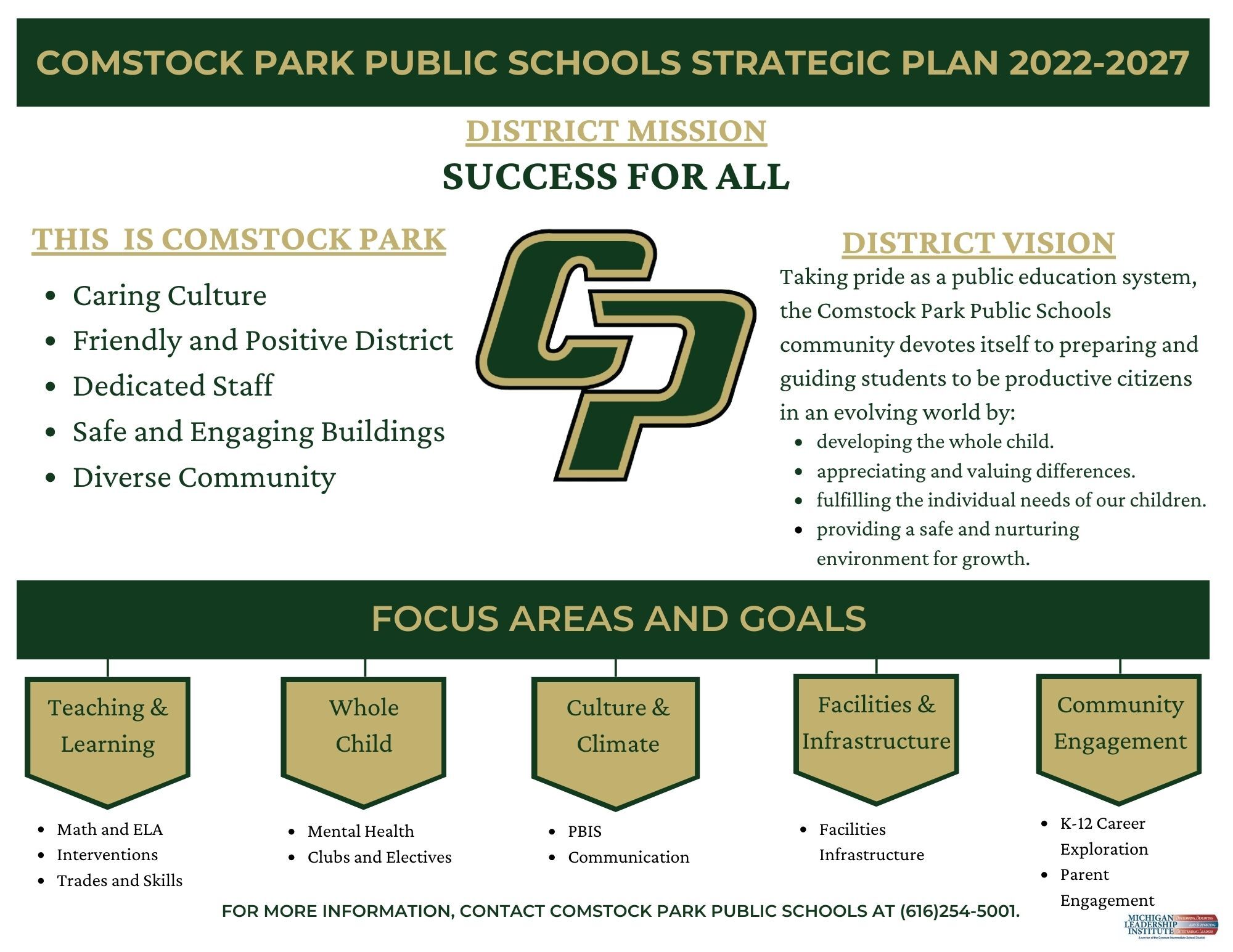 New Volunteer Form
Please fill out a new volunteer form for the 2022-2023 school year. A new form needs to be completed each school year and will expire on June 30, 2023.
Lunch Benefits
Click here to apply for free and reduced lunch benefits. Students must have an approved application to be eligible for free or reduced lunch beginning again for 22/23.
Athletics
COVID-19 2022-2023 School Year
Vision
Taking pride as a public education system, the Comstock Park Public Schools community devotes itself to preparing and guiding students to be productive citizens in an evolving world by:
developing the whole child.
appreciating and valuing differences.
fulfilling the individual needs of our children.
providing a safe and nurturing environment for growth.
If you have questions or have an ADA complaint to file, please email the following Compliance Officer at the following address - dwashburn@cppschools.com