Welcome to

Comstock Park Public Schools

Success for All
Calendar

Previous

September

2023

Next

S
M
T
W
T
F
S
1

Sep 1

No School Students and Staff

Location:

All Sites - All Spaces

Calendar:

ML Schedules Calendar

3:00 PM to 4:00 PM

Location:

Pine Island Elementary - PI Gym

Calendar:

ML Schedules Calendar

3:10 PM to 4:50 PM

Location:

Comstock Park High School - HS Gym

Calendar:

ML Schedules Calendar

5:00 PM to 8:00 PM

Level Up Basketball Training

Location:

Mill Creek Middle School - Middle School Gym

Calendar:

ML Schedules Calendar

5:30 PM to 8:30 PM

rocket football practice 3/4 5/6

Location:

Mill Creek Middle School - MC Practice Field

Calendar:

ML Schedules Calendar

2

Sep 2

9:00 AM to 3:00 PM

Level Up Basketball Training

Location:

Mill Creek Middle School - Middle School Gym

Calendar:

ML Schedules Calendar

3

Sep 3

No School Students and Staff

Location:

All Sites - All Spaces

Calendar:

ML Schedules Calendar

9:00 AM to 3:00 PM

Level Up Basketball Training

Location:

Mill Creek Middle School - Middle School Gym

Calendar:

ML Schedules Calendar

10:15 AM to 11:45 AM

Men's Basketball - Boyd Culver

Location:

Pine Island Elementary - PI Gym

Calendar:

ML Schedules Calendar

6:00 PM to 9:00 PM

Location:

Pine Island Elementary - PI Gym

Calendar:

ML Schedules Calendar

4

Sep 4

3:00 PM to 4:00 PM

Location:

Pine Island Elementary - PI Gym

Calendar:

ML Schedules Calendar

3:10 PM to 4:50 PM

Location:

Comstock Park High School - HS Gym

Calendar:

ML Schedules Calendar

3:15 PM to 6:15 PM

Location:

Comstock Park High School - HS Stadium

Calendar:

ML Schedules Calendar

4:30 PM to 8:30 PM

PASS FC Outdoor Training 23/24 Season

Location:

Pine Island Elementary - PI East Practice Field, PI West Practice Field

Calendar:

ML Schedules Calendar

5:00 PM to 8:00 PM

Level Up Basketball Training

Location:

Mill Creek Middle School - Middle School Gym

Calendar:

ML Schedules Calendar

5:30 PM to 8:30 PM

rocket football practice 3/4 5/6

Location:

Mill Creek Middle School - MC Practice Field

Calendar:

ML Schedules Calendar

6:30 PM to 8:30 PM

Location:

Comstock Park High School - HS Stadium

Calendar:

ML Schedules Calendar

5

Sep 5

3:00 PM to 4:00 PM

Location:

Pine Island Elementary - PI Gym

Calendar:

ML Schedules Calendar

3:10 PM to 4:50 PM

Location:

Comstock Park High School - HS Gym

Calendar:

ML Schedules Calendar

3:15 PM to 5:15 PM

All Star Driver Education

Location:

Comstock Park High School - HS Classroom Lab B110

Calendar:

ML Schedules Calendar

4:30 PM to 7:30 PM

Location:

Comstock Park High School - HS Mat Room

Calendar:

ML Schedules Calendar

4:30 PM to 8:30 PM

PASS FC Outdoor Training 23/24 Season

Location:

Pine Island Elementary - PI East Practice Field, PI West Practice Field

Calendar:

ML Schedules Calendar

5:00 PM to 6:00 PM

Location:

Comstock Park High School - HS Auditorium Lobby

Calendar:

ML Schedules Calendar

5:00 PM to 8:00 PM

Level Up Basketball Training

Location:

Mill Creek Middle School - Middle School Gym

Calendar:

ML Schedules Calendar

5:30 PM to 8:30 PM

rocket football practice 3/4 5/6

Location:

Mill Creek Middle School - MC Practice Field

Calendar:

ML Schedules Calendar

5:45 PM to 9:45 PM

ASDE Instructor Prep Classes- Tue & Thur

Location:

Comstock Park High School - HS Classroom Lab B110

Calendar:

ML Schedules Calendar

6:00 PM to 9:00 PM

Location:

Comstock Park High School - HS Stadium

Calendar:

ML Schedules Calendar

6:00 PM to 9:00 PM

Location:

Pine Island Elementary - PI Gym

Calendar:

ML Schedules Calendar

6

Sep 6

3:00 PM to 4:00 PM

Location:

Pine Island Elementary - PI Gym

Calendar:

ML Schedules Calendar

3:10 PM to 4:50 PM

Location:

Comstock Park High School - HS Gym

Calendar:

ML Schedules Calendar

3:15 PM to 5:15 PM

All Star Driver Education

Location:

Comstock Park High School - HS Classroom Lab B110

Calendar:

ML Schedules Calendar

4:15 PM to 6:15 PM

Comstock Park HS/MS VLB G MS vs Hopkins Middle School (MS Girls Volleyball)

Location:

Mill Creek Middle School - Middle School Gym

Calendar:

ML Schedules Calendar

4:30 PM to 8:30 PM

PASS FC Outdoor Training 23/24 Season

Location:

Pine Island Elementary - PI East Practice Field, PI West Practice Field

Calendar:

ML Schedules Calendar

5:00 PM to 8:00 PM

Level Up Basketball Training

Location:

Stoney Creek Elementary - SC Gym

Calendar:

ML Schedules Calendar

5:00 PM to 8:00 PM

Middle School Scrimmage vs. Coopersville

Location:

Comstock Park High School - HS Stadium

Calendar:

ML Schedules Calendar

5:30 PM to 7:30 PM

Location:

Comstock Park High School - HS Mat Room

Calendar:

ML Schedules Calendar

5:30 PM to 8:30 PM

rocket football practice 3/4 5/6

Location:

Mill Creek Middle School - MC Practice Field

Calendar:

ML Schedules Calendar

6:00 PM to 8:00 PM

Location:

Comstock Park High School - HS Auditorium, HS Aux Gym, HS Band Lot, HS Band Room, HS Choir Room

Calendar:

ML Schedules Calendar

6:00 PM to 9:00 PM

Location:

Pine Island Elementary - PI Gym

Calendar:

ML Schedules Calendar

7

Sep 7

3:00 PM to 4:00 PM

Location:

Pine Island Elementary - PI Gym

Calendar:

ML Schedules Calendar

3:00 PM to 4:00 PM

Location:

Comstock Park High School - HS Cafeteria

Calendar:

ML Schedules Calendar

3:10 PM to 4:50 PM

Location:

Comstock Park High School - HS Gym

Calendar:

ML Schedules Calendar

3:15 PM to 5:15 PM

All Star Driver Education

Location:

Comstock Park High School - HS Classroom Lab B110

Calendar:

ML Schedules Calendar

4:30 PM to 6:30 PM

Comstock Park HS/MS SOC B JV vs NorthPointe Christian HS

Location:

Comstock Park High School - HS Stadium

Calendar:

ML Schedules Calendar

Facility: HS Stadium Tickets: Angie Nowak Fee: $0.00 Event Mng.: Nate Gould Fee: $0.00 Visit https://comstockparkpanthers.com/main/event/scid/MI493219338/eventid/76767177 for more information!

Click here to watch this event live!

4:30 PM to 8:30 PM

PASS FC Outdoor Training 23/24 Season

Location:

Pine Island Elementary - PI East Practice Field, PI West Practice Field

Calendar:

ML Schedules Calendar

5:00 PM to 8:00 PM

Level Up Basketball Training

Location:

Mill Creek Middle School - Middle School Gym

Calendar:

ML Schedules Calendar

5:30 PM to 7:30 PM

Location:

Comstock Park High School - HS Mat Room

Calendar:

ML Schedules Calendar

5:30 PM to 8:30 PM

rocket football practice 3/4 5/6

Location:

Mill Creek Middle School - MC Practice Field

Calendar:

ML Schedules Calendar

5:45 PM to 9:45 PM

ASDE Instructor Prep Classes- Tue & Thur

Location:

Comstock Park High School - HS Classroom Lab B110

Calendar:

ML Schedules Calendar

6:00 PM to 8:00 PM

Comstock Park HS/MS SOC B V vs NorthPointe Christian HS

Location:

Comstock Park High School - HS Stadium

Calendar:

ML Schedules Calendar

Facility: HS Stadium Event Mng.: Nate Gould Fee: $0.00 Tickets: Melissa Wollen Fee: $0.00 Visit https://comstockparkpanthers.com/main/event/scid/MI493219338/eventid/75888682 for more information!

Click here to watch this event live!

6:00 PM to 9:00 PM

Location:

Pine Island Elementary - PI Gym

Calendar:

ML Schedules Calendar

6:05 PM to 7:55 PM

Location:

Greenridge Elementary - GR Gym

Calendar:

ML Schedules Calendar

6:30 PM to 8:00 PM

Location:

Pine Island Elementary - PI Media Center

Calendar:

ML Schedules Calendar

7:00 PM to 9:00 PM

Location:

Comstock Park High School - HS Life Skills Classroom (A102)

Calendar:

ML Schedules Calendar

8:00 PM to 9:30 PM

Basketball - Local Dads and friends

Location:

Stoney Creek Elementary - SC Gym

Calendar:

ML Schedules Calendar

8

Sep 8

3:00 PM to 4:00 PM

Location:

Pine Island Elementary - PI Gym

Calendar:

ML Schedules Calendar

3:10 PM to 4:50 PM

Location:

Comstock Park High School - HS Gym

Calendar:

ML Schedules Calendar

3:15 PM to 5:15 PM

All Star Driver Education

Location:

Comstock Park High School - HS Classroom Lab B110

Calendar:

ML Schedules Calendar

5:00 PM to 8:00 PM

Level Up Basketball Training

Location:

Mill Creek Middle School - Middle School Gym

Calendar:

ML Schedules Calendar

5:00 PM to 10:00 PM

Marching Band Football Prep

Location:

Comstock Park High School - HS Band Lot, HS Band Room, HS Choir Room, HS Life Skills Classroom (A102

Calendar:

ML Schedules Calendar

5:30 PM to 8:30 PM

rocket football practice 3/4 5/6

Location:

Mill Creek Middle School - MC Practice Field

Calendar:

ML Schedules Calendar

7:00 PM to 9:00 PM

Comstock Park HS/MS FB B V vs Kelloggsville High School

Location:

Comstock Park High School - HS Stadium

Calendar:

ML Schedules Calendar

Facility: HS Stadium Tickets: Sharon McLellan Fee: $0.00 Announcer: Sam Weatherwax Fee: $0.00 Gate: Greg Madura Fee: $0.00 hospitality: Gary Holland Fee: $0.00 Press Box Spotter: Rose Weatherwax Fee: $0.00 Tickets: Kevin McLellan Fee: $0.00 Clock: Roman Rodriquez Fee: $0.00 Event Manager: Nate Gould Fee: $0.00 Visit https://comstockparkpanthers.com/main/event/scid/MI493219338/eventid/75930102 for more information!

Click here to watch this event live!

9

Sep 9

8:00 AM to 4:00 PM

Location:

Comstock Park High School - HS Stadium

Calendar:

ML Schedules Calendar

9:45 AM to 5:45 PM

ASDE Instructor Prep Classes- Sat

Location:

Comstock Park High School - HS Classroom Lab B110

Calendar:

ML Schedules Calendar

10:00 AM to 2:00 PM

Level Up Basketball Training

Location:

Mill Creek Middle School - Middle School Gym

Calendar:

ML Schedules Calendar

10

Sep 10

10:00 AM to 2:00 PM

Level Up Basketball Training

Location:

Mill Creek Middle School - Middle School Gym

Calendar:

ML Schedules Calendar

10:15 AM to 11:45 AM

Men's Basketball - Boyd Culver

Location:

Pine Island Elementary - PI Gym

Calendar:

ML Schedules Calendar

1:40 PM to 4:20 PM

Cub Scout Pack 3373 Pack/Den Meeting

Location:

Stoney Creek Elementary - SC Cafeteria

Calendar:

ML Schedules Calendar

5:00 PM to 6:30 PM

Girls Basketball Open Gym/4-person workouts

Location:

Comstock Park High School - HS Gym

Calendar:

ML Schedules Calendar

6:00 PM to 9:00 PM

Location:

Pine Island Elementary - PI Gym

Calendar:

ML Schedules Calendar

11

Sep 11

3:00 PM to 4:00 PM

Location:

Pine Island Elementary - PI Gym

Calendar:

ML Schedules Calendar

3:10 PM to 4:50 PM

Location:

Comstock Park High School - HS Gym

Calendar:

ML Schedules Calendar

3:15 PM to 5:00 PM

Location:

Comstock Park High School - HS Aux Gym

Calendar:

ML Schedules Calendar

3:15 PM to 6:15 PM

Location:

Comstock Park High School - HS Stadium

Calendar:

ML Schedules Calendar

3:30 PM to 5:15 PM

All Star Driver Education

Location:

Comstock Park High School - HS Classroom Lab B110

Calendar:

ML Schedules Calendar

4:30 PM to 8:30 PM

PASS FC Outdoor Training 23/24 Season

Location:

Pine Island Elementary - PI East Practice Field, PI West Practice Field

Calendar:

ML Schedules Calendar

5:00 PM to 8:00 PM

Level Up Basketball Training

Location:

Mill Creek Middle School - Middle School Gym

Calendar:

ML Schedules Calendar

5:30 PM to 8:30 PM

rocket football practice 3/4 5/6

Location:

Mill Creek Middle School - MC Practice Field

Calendar:

ML Schedules Calendar

5:45 PM to 7:30 PM

All Star Driver Education

Location:

Comstock Park High School - HS Classroom Lab B110

Calendar:

ML Schedules Calendar

6:00 PM to 9:30 PM

Location:

Comstock Park High School - HS Band Lot, HS Band Room, HS Choir Room, HS Life Skills Classroom (A102

Calendar:

ML Schedules Calendar

6:30 PM to 7:30 PM

Location:

Pine Island Elementary - PI Media Center

Calendar:

ML Schedules Calendar

6:30 PM to 7:45 PM

Location:

Comstock Park High School - HS Media Center

Calendar:

ML Schedules Calendar

6:30 PM to 8:30 PM

Location:

Comstock Park High School - HS Stadium

Calendar:

ML Schedules Calendar

12

Sep 12

6:00 AM to 7:15 AM

Location:

Comstock Park High School - HS Gym

Calendar:

ML Schedules Calendar

3:00 PM to 4:00 PM

Location:

Pine Island Elementary - PI Gym

Calendar:

ML Schedules Calendar

3:10 PM to 4:50 PM

Location:

Comstock Park High School - HS Gym

Calendar:

ML Schedules Calendar

3:15 PM to 6:15 PM

Location:

Comstock Park High School - HS Stadium

Calendar:

ML Schedules Calendar

3:30 PM to 5:15 PM

All Star Driver Education

Location:

Comstock Park High School - HS Classroom Lab B110

Calendar:

ML Schedules Calendar

4:00 PM to 6:00 PM

Comstock Park HS/MS TEN B V @ Grant HS

Location:

Comstock Park High School - HS Tennis Courts

Calendar:

ML Schedules Calendar

Facility: HS Tennis Courts Transportation: District Bus Depart: 2:30 PM Visit https://comstockparkpanthers.com/main/event/scid/MI493219338/eventid/76912752 for more information!

Click here to watch this event live!

4:30 PM to 7:30 PM

Location:

Comstock Park High School - HS Mat Room

Calendar:

ML Schedules Calendar

4:30 PM to 8:30 PM

PASS FC Outdoor Training 23/24 Season

Location:

Pine Island Elementary - PI East Practice Field, PI West Practice Field

Calendar:

ML Schedules Calendar

5:00 PM to 8:00 PM

Level Up Basketball Training

Location:

Mill Creek Middle School - Middle School Gym

Calendar:

ML Schedules Calendar

5:30 PM to 8:30 PM

rocket football practice 3/4 5/6

Location:

Mill Creek Middle School - MC Practice Field

Calendar:

ML Schedules Calendar

5:45 PM to 9:45 PM

ASDE Instructor Prep Classes- Tue & Thur

Location:

Comstock Park High School - HS Classroom Lab B110

Calendar:

ML Schedules Calendar

6:00 PM to 9:00 PM

Location:

Pine Island Elementary - PI Gym

Calendar:

ML Schedules Calendar

6:30 PM to 8:30 PM

Location:

Comstock Park High School - HS Stadium

Calendar:

ML Schedules Calendar

6:45 PM to 7:15 PM

Senior Parent Meeting (2024)

Location:

Comstock Park High School - HS Media Center

Calendar:

ML Schedules Calendar

13

Sep 13

3:00 PM to 4:00 PM

Location:

Pine Island Elementary - PI Gym

Calendar:

ML Schedules Calendar

3:10 PM to 4:50 PM

Location:

Comstock Park High School - HS Gym

Calendar:

ML Schedules Calendar

3:15 PM to 6:15 PM

Location:

Comstock Park High School - HS Stadium

Calendar:

ML Schedules Calendar

3:30 PM to 5:15 PM

All Star Driver Education

Location:

Comstock Park High School - HS Classroom Lab B110

Calendar:

ML Schedules Calendar

4:30 PM to 8:30 PM

PASS FC Outdoor Training 23/24 Season

Location:

Pine Island Elementary - PI East Practice Field, PI West Practice Field

Calendar:

ML Schedules Calendar

5:00 PM to 8:00 PM

Level Up Basketball Training

Location:

Mill Creek Middle School - Middle School Gym

Calendar:

ML Schedules Calendar

5:30 PM to 7:30 PM

Location:

Comstock Park High School - HS Mat Room

Calendar:

ML Schedules Calendar

5:30 PM to 8:15 PM

rocket flag football games

Location:

Comstock Park High School - HS North Practice Field

Calendar:

ML Schedules Calendar

5:30 PM to 8:30 PM

rocket football practice 3/4 5/6

Location:

Mill Creek Middle School - MC Practice Field

Calendar:

ML Schedules Calendar

5:45 PM to 7:30 PM

All Star Driver Education

Location:

Comstock Park High School - HS Classroom Lab B110

Calendar:

ML Schedules Calendar

6:00 PM to 7:00 PM

Location:

Comstock Park High School - HS Cafeteria

Calendar:

ML Schedules Calendar

outside if weather permits

6:00 PM to 8:00 PM

Location:

Comstock Park High School - HS Auditorium, HS Aux Gym, HS Band Lot, HS Band Room, HS Choir Room

Calendar:

ML Schedules Calendar

6:00 PM to 9:00 PM

Location:

Pine Island Elementary - PI Gym

Calendar:

ML Schedules Calendar

6:30 PM to 8:30 PM

Location:

Comstock Park High School - HS Stadium

Calendar:

ML Schedules Calendar

14

Sep 14

6:00 AM to 7:15 AM

Location:

Comstock Park High School - HS Gym

Calendar:

ML Schedules Calendar

7:25 AM to 1:50 PM

Location:

Comstock Park High School - HS Auditorium, HS Auditorium Lobby

Calendar:

ML Schedules Calendar

3:00 PM to 4:00 PM

Location:

Pine Island Elementary - PI Gym

Calendar:

ML Schedules Calendar

3:00 PM to 4:00 PM

Location:

Comstock Park High School - HS Cafeteria

Calendar:

ML Schedules Calendar

3:10 PM to 4:50 PM

Location:

Comstock Park High School - HS Gym

Calendar:

ML Schedules Calendar

3:15 PM to 6:15 PM

Location:

Comstock Park High School - HS Stadium

Calendar:

ML Schedules Calendar

3:30 PM to 5:15 PM

All Star Driver Education

Location:

Comstock Park High School - HS Classroom Lab B110

Calendar:

ML Schedules Calendar

4:00 PM to 6:00 PM

Comstock Park HS/MS TEN B V vs North Muskegon High School

Location:

Comstock Park High School - HS Tennis Courts

Calendar:

ML Schedules Calendar

4:30 PM to 8:30 PM

PASS FC Outdoor Training 23/24 Season

Location:

Pine Island Elementary - PI East Practice Field, PI West Practice Field

Calendar:

ML Schedules Calendar

5:00 PM to 7:00 PM

Comstock Park HS/MS VLB G FR vs NorthPointe Christian HS

Location:

Comstock Park High School - HS Gym

Calendar:

ML Schedules Calendar

Facility: HS Gym Announcer: Sam Weatherwax Fee: $0.00 Scorebook: Rose Weatherwax Fee: $0.00 Event Mng.: Charlie Hess Fee: $0.00 Tickets: Cindy Lamb Fee: $0.00 Tickets: Brittany Lerch Fee: $0.00 Visit https://comstockparkpanthers.com/main/event/scid/MI493219338/eventid/76534970 for more information!

Click here to watch this event live!

5:00 PM to 8:00 PM

Level Up Basketball Training

Location:

Mill Creek Middle School - Middle School Gym

Calendar:

ML Schedules Calendar

5:30 PM to 8:30 PM

rocket football practice 3/4 5/6

Location:

Mill Creek Middle School - MC Practice Field

Calendar:

ML Schedules Calendar

5:45 PM to 9:45 PM

ASDE Instructor Prep Classes- Tue & Thur

Location:

Comstock Park High School - HS Classroom Lab B110

Calendar:

ML Schedules Calendar

6:00 PM to 8:00 PM

Comstock Park HS/MS FB B JV vs Belding HS/MS

Location:

Comstock Park High School - HS Stadium

Calendar:

ML Schedules Calendar

Facility: HS Stadium Announcer: Gary Holland Fee: $0.00 Clock: Roman Rodriquez Fee: $0.00 Tickets: Charlene Werdon Fee: $0.00 Event Mng.: Nate Gould Fee: $0.00 Visit https://comstockparkpanthers.com/main/event/scid/MI493219338/eventid/75930113 for more information!

6:00 PM to 8:00 PM

Comstock Park HS/MS VLB G JV vs NorthPointe Christian HS

Location:

Comstock Park High School - HS Gym

Calendar:

ML Schedules Calendar

Facility: HS Gym Announcer: Sam Weatherwax Fee: $0.00 Scorebook: Rose Weatherwax Fee: $0.00 Event Mng.: Charlie Hess Fee: $0.00 Tickets: Cindy Lamb Fee: $0.00 Visit https://comstockparkpanthers.com/main/event/scid/MI493219338/eventid/75893077 for more information!

Click here to watch this event live!

6:00 PM to 9:00 PM

Location:

Pine Island Elementary - PI Gym

Calendar:

ML Schedules Calendar

6:05 PM to 7:55 PM

Location:

Greenridge Elementary - GR Gym

Calendar:

ML Schedules Calendar

7:00 PM to 9:00 PM

Comstock Park HS/MS VLB G V vs NorthPointe Christian HS

Location:

Comstock Park High School - HS Gym

Calendar:

ML Schedules Calendar

Facility: HS Gym Announcer: Sam Weatherwax Fee: $0.00 Scorebook: Rose Weatherwax Fee: $0.00 Event Mng.: Charlie Hess Fee: $0.00 Tickets: Andy Cleveland Fee: $0.00 Visit https://comstockparkpanthers.com/main/event/scid/MI493219338/eventid/75893045 for more information!

Click here to watch this event live!

8:00 PM to 9:30 PM

Basketball - Local Dads and friends

Location:

Stoney Creek Elementary - SC Gym

Calendar:

ML Schedules Calendar

15

Sep 15

3:00 PM to 4:00 PM

Location:

Pine Island Elementary - PI Gym

Calendar:

ML Schedules Calendar

3:10 PM to 4:50 PM

Location:

Comstock Park High School - HS Gym

Calendar:

ML Schedules Calendar

5:00 PM to 8:00 PM

Level Up Basketball Training

Location:

Mill Creek Middle School - Middle School Gym

Calendar:

ML Schedules Calendar

5:30 PM to 8:30 PM

rocket football practice 3/4 5/6

Location:

Mill Creek Middle School - MC Practice Field

Calendar:

ML Schedules Calendar

16

Sep 16

8:00 AM to 4:00 PM

Location:

Comstock Park High School - HS Stadium

Calendar:

ML Schedules Calendar

10:00 AM to 2:00 PM

Level Up Basketball Training

Location:

Mill Creek Middle School - Middle School Gym

Calendar:

ML Schedules Calendar

11:00 AM to 12:00 PM

Location:

Pine Island Elementary - PI Gym

Calendar:

ML Schedules Calendar

17

Sep 17

10:00 AM to 2:00 PM

Level Up Basketball Training

Location:

Mill Creek Middle School - Middle School Gym

Calendar:

ML Schedules Calendar

10:15 AM to 11:45 AM

Men's Basketball - Boyd Culver

Location:

Pine Island Elementary - PI Gym

Calendar:

ML Schedules Calendar

5:00 PM to 6:30 PM

Girls Basketball Open Gym/4-person workouts

Location:

Comstock Park High School - HS Gym

Calendar:

ML Schedules Calendar

6:00 PM to 9:00 PM

Location:

Pine Island Elementary - PI Gym

Calendar:

ML Schedules Calendar

18

Sep 18

3:00 PM to 4:00 PM

Location:

Pine Island Elementary - PI Gym

Calendar:

ML Schedules Calendar

3:10 PM to 4:50 PM

Location:

Comstock Park High School - HS Gym

Calendar:

ML Schedules Calendar

3:15 PM to 6:15 PM

Location:

Comstock Park High School - HS Stadium

Calendar:

ML Schedules Calendar

3:30 PM to 5:15 PM

All Star Driver Education

Location:

Comstock Park High School - HS Classroom Lab B110

Calendar:

ML Schedules Calendar

4:15 PM to 6:15 PM

Comstock Park HS/MS VLB G MS vs Godwin Heights Middle School (MS Girls Volleyball)

Location:

Mill Creek Middle School - Middle School Gym

Calendar:

ML Schedules Calendar

4:30 PM to 8:30 PM

PASS FC Outdoor Training 23/24 Season

Location:

Pine Island Elementary - PI East Practice Field, PI West Practice Field

Calendar:

ML Schedules Calendar

5:00 PM to 8:00 PM

Level Up Basketball Training

Location:

Stoney Creek Elementary - SC Gym

Calendar:

ML Schedules Calendar

5:30 PM to 6:00 PM

Hall of Fame Committee Meeting

Location:

Mill Creek Middle School - MC Media Center

Calendar:

ML Schedules Calendar

5:30 PM to 8:30 PM

rocket football practice 3/4 5/6

Location:

Mill Creek Middle School - MC Practice Field

Calendar:

ML Schedules Calendar

6:00 PM to 9:30 PM

Location:

Comstock Park High School - HS Band Lot, HS Band Room, HS Choir Room, HS Life Skills Classroom (A102

Calendar:

ML Schedules Calendar

6:15 PM to 8:00 PM

Marching Band Field Practice

Location:

Comstock Park High School - HS Stadium

Calendar:

ML Schedules Calendar

7:30 PM to 8:00 PM

Board of Education Meeting

Location:

Mill Creek Middle School - MC Board Room

Calendar:

ML Schedules Calendar

19

Sep 19

6:00 AM to 7:15 AM

Location:

Comstock Park High School - HS Gym

Calendar:

ML Schedules Calendar

3:00 PM to 4:00 PM

Location:

Pine Island Elementary - PI Gym

Calendar:

ML Schedules Calendar

3:10 PM to 4:50 PM

Location:

Comstock Park High School - HS Gym

Calendar:

ML Schedules Calendar

3:30 PM to 5:15 PM

All Star Driver Education

Location:

Comstock Park High School - HS Classroom Lab B110

Calendar:

ML Schedules Calendar

4:30 PM to 7:30 PM

Location:

Comstock Park High School - HS Mat Room

Calendar:

ML Schedules Calendar

4:30 PM to 8:30 PM

PASS FC Outdoor Training 23/24 Season

Location:

Pine Island Elementary - PI East Practice Field, PI West Practice Field

Calendar:

ML Schedules Calendar

5:00 PM to 8:00 PM

Level Up Basketball Training

Location:

Mill Creek Middle School - Middle School Gym

Calendar:

ML Schedules Calendar

5:30 PM to 8:30 PM

rocket football practice 3/4 5/6

Location:

Mill Creek Middle School - MC Practice Field

Calendar:

ML Schedules Calendar

5:45 PM to 9:45 PM

ASDE Instructor Prep Classes- Tue & Thur

Location:

Comstock Park High School - HS Classroom Lab B110

Calendar:

ML Schedules Calendar

6:00 PM to 9:00 PM

Location:

Comstock Park High School - HS Stadium

Calendar:

ML Schedules Calendar

6:00 PM to 9:00 PM

Location:

Pine Island Elementary - PI Gym

Calendar:

ML Schedules Calendar

20

Sep 20

3:00 PM to 4:00 PM

Location:

Pine Island Elementary - PI Gym

Calendar:

ML Schedules Calendar

3:10 PM to 4:50 PM

Location:

Comstock Park High School - HS Gym

Calendar:

ML Schedules Calendar

3:15 PM to 6:15 PM

Location:

Comstock Park High School - HS Stadium

Calendar:

ML Schedules Calendar

3:30 PM to 5:15 PM

All Star Driver Education

Location:

Comstock Park High School - HS Classroom Lab B110

Calendar:

ML Schedules Calendar

3:50 PM to 6:00 PM

Location:

Stoney Creek Elementary - SC Cafeteria, SC Gym

Calendar:

ML Schedules Calendar

4:00 PM to 6:00 PM

Comstock Park HS/MS TEN B V vs Calvin Christian HS

Location:

Comstock Park High School - HS Tennis Courts

Calendar:

ML Schedules Calendar

4:15 PM to 6:15 PM

Comstock Park HS/MS VLB G MS vs NorthPointe Christian Middle School

Location:

Mill Creek Middle School - Middle School Gym

Calendar:

ML Schedules Calendar

4:30 PM to 8:30 PM

PASS FC Outdoor Training 23/24 Season

Location:

Pine Island Elementary - PI East Practice Field, PI West Practice Field

Calendar:

ML Schedules Calendar

5:00 PM to 7:00 PM

Comstock Park HS/MS FB B MS vs Holland Christian Middle

Location:

Comstock Park High School - HS Stadium

Calendar:

ML Schedules Calendar

5:00 PM to 8:00 PM

Level Up Basketball Training

Location:

Stoney Creek Elementary - SC Gym

Calendar:

ML Schedules Calendar

5:30 PM to 7:30 PM

Location:

Comstock Park High School - HS Mat Room

Calendar:

ML Schedules Calendar

5:30 PM to 8:15 PM

rocket flag football games

Location:

Comstock Park High School - HS North Practice Field

Calendar:

ML Schedules Calendar

5:30 PM to 8:30 PM

rocket football practice 3/4 5/6

Location:

Mill Creek Middle School - MC Practice Field

Calendar:

ML Schedules Calendar

6:00 PM to 8:00 PM

Location:

Comstock Park High School - HS Auditorium, HS Aux Gym, HS Band Lot, HS Band Room, HS Choir Room

Calendar:

ML Schedules Calendar

6:00 PM to 9:00 PM

Location:

Pine Island Elementary - PI Gym

Calendar:

ML Schedules Calendar

6:30 PM to 8:30 PM

Location:

Comstock Park High School - HS Stadium

Calendar:

ML Schedules Calendar

21

Sep 21

6:00 AM to 7:15 AM

Location:

Comstock Park High School - HS Gym

Calendar:

ML Schedules Calendar

7:30 AM to 3:30 PM

Location:

Pine Island Elementary - PI Media Center

Calendar:

ML Schedules Calendar

3:00 PM to 4:00 PM

Location:

Pine Island Elementary - PI Gym

Calendar:

ML Schedules Calendar

3:00 PM to 4:00 PM

Location:

Comstock Park High School - HS Cafeteria

Calendar:

ML Schedules Calendar

3:10 PM to 4:50 PM

Location:

Comstock Park High School - HS Gym

Calendar:

ML Schedules Calendar

3:30 PM to 5:15 PM

All Star Driver Education

Location:

Comstock Park High School - HS Classroom Lab B110

Calendar:

ML Schedules Calendar

3:50 PM to 6:00 PM

Location:

Stoney Creek Elementary - SC Cafeteria, SC Gym

Calendar:

ML Schedules Calendar

4:30 PM to 5:55 PM

Union Governing Body Meeting

Location:

Comstock Park High School - HS Media Center

Calendar:

ML Schedules Calendar

4:30 PM to 6:30 PM

Comstock Park HS/MS SOC B JV vs Fremont High School

Location:

Comstock Park High School - HS Stadium

Calendar:

ML Schedules Calendar

Facility: HS Stadium Tickets: Leisha Emmorey Fee: $0.00 Event Mng.: Nate Gould Fee: $0.00 Visit https://comstockparkpanthers.com/main/event/scid/MI493219338/eventid/76797235 for more information!

Click here to watch this event live!

4:30 PM to 8:30 PM

PASS FC Outdoor Training 23/24 Season

Location:

Pine Island Elementary - PI East Practice Field, PI West Practice Field

Calendar:

ML Schedules Calendar

5:00 PM to 8:00 PM

Level Up Basketball Training

Location:

Mill Creek Middle School - Middle School Gym

Calendar:

ML Schedules Calendar

5:30 PM to 7:30 PM

Location:

Comstock Park High School - HS Mat Room

Calendar:

ML Schedules Calendar

5:30 PM to 8:30 PM

rocket football practice 3/4 5/6

Location:

Mill Creek Middle School - MC Practice Field

Calendar:

ML Schedules Calendar

5:45 PM to 9:45 PM

ASDE Instructor Prep Classes- Tue & Thur

Location:

Comstock Park High School - HS Classroom Lab B110

Calendar:

ML Schedules Calendar

6:00 PM to 8:00 PM

Comstock Park HS/MS SOC B V vs Belding HS/MS

Location:

Comstock Park High School - HS Stadium

Calendar:

ML Schedules Calendar

Facility: HS Stadium Announcer: Kari Fuller Fee: $0.00 Event Mng.: Nate Gould Fee: $0.00 Tickets: Melissa Wollen Fee: $0.00 Visit https://comstockparkpanthers.com/main/event/scid/MI493219338/eventid/75888693 for more information!

Click here to watch this event live!

6:00 PM to 8:00 PM

Comstock Park HS/MS VLB G JV vs Kelloggsville High School

Location:

Comstock Park High School - HS Gym

Calendar:

ML Schedules Calendar

Facility: HS Gym Event Mng.: Gary Holland Fee: $0.00 Tickets: Cindy Lamb Fee: $0.00 Visit https://comstockparkpanthers.com/main/event/scid/MI493219338/eventid/75893081 for more information!

Click here to watch this event live!

6:00 PM to 9:00 PM

Location:

Pine Island Elementary - PI Gym

Calendar:

ML Schedules Calendar

6:05 PM to 7:55 PM

Location:

Greenridge Elementary - GR Gym

Calendar:

ML Schedules Calendar

7:00 PM to 9:00 PM

Comstock Park HS/MS VLB G V vs Kelloggsville High School

Location:

Comstock Park High School - HS Gym

Calendar:

ML Schedules Calendar

Facility: HS Gym Announcer: Sam Weatherwax Fee: $0.00 Event Mng.: Gary Holland Fee: $0.00 Book: Rose Weatherwax Fee: $0.00 Tickets: Andy Cleveland Fee: $0.00 Visit https://comstockparkpanthers.com/main/event/scid/MI493219338/eventid/75893048 for more information!

Click here to watch this event live!

8:00 PM to 9:30 PM

Basketball - Local Dads and friends

Location:

Stoney Creek Elementary - SC Gym

Calendar:

ML Schedules Calendar

22

Sep 22

3:00 PM to 4:00 PM

Location:

Pine Island Elementary - PI Gym

Calendar:

ML Schedules Calendar

3:10 PM to 4:50 PM

Location:

Comstock Park High School - HS Gym

Calendar:

ML Schedules Calendar

3:50 PM to 6:00 PM

Location:

Stoney Creek Elementary - SC Cafeteria, SC Gym

Calendar:

ML Schedules Calendar

5:00 PM to 8:00 PM

Level Up Basketball Training

Location:

Mill Creek Middle School - Middle School Gym

Calendar:

ML Schedules Calendar

5:00 PM to 10:00 PM

Marching Band Football Prep

Location:

Comstock Park High School - HS Band Lot, HS Band Room, HS Choir Room, HS Life Skills Classroom (A102

Calendar:

ML Schedules Calendar

5:30 PM to 8:30 PM

rocket football practice 3/4 5/6

Location:

Mill Creek Middle School - MC Practice Field

Calendar:

ML Schedules Calendar

7:00 PM to 9:00 PM

Comstock Park HS/MS FB B V vs Godwin Heights Public Schools (Rocket Night)

Location:

Comstock Park High School - HS Stadium

Calendar:

ML Schedules Calendar

Facility: HS Stadium Tickets: Sharon McLellan Fee: $0.00 Announcer: Sam Weatherwax Fee: $0.00 Gate: Greg Madura Fee: $0.00 hospitality: Gary Holland Fee: $0.00 Press Box Spotter: Rose Weatherwax Fee: $0.00 Tickets: Bernie Gull Fee: $0.00 Tickets: Kevin McLellan Fee: $0.00 Clock: Roman Rodriquez Fee: $0.00 Event Mng.: Nate Gould Fee: $0.00 Visit https://comstockparkpanthers.com/main/event/scid/MI493219338/eventid/75930125 for more information!

Click here to watch this event live!

23

Sep 23

8:00 AM to 4:00 PM

Location:

Comstock Park High School - HS Stadium

Calendar:

ML Schedules Calendar

9:00 AM to 5:00 PM

Marching Band Competition Prep

Location:

Comstock Park High School - HS Auditorium, HS Auditorium Lobby, HS Aux Gym, HS Band Lot, HS Band Roo

Calendar:

ML Schedules Calendar

9:45 AM to 5:45 PM

ASDE Instructor Prep Classes- Sat

Location:

Comstock Park High School - HS Classroom Lab B110

Calendar:

ML Schedules Calendar

10:00 AM to 2:00 PM

Level Up Basketball Training

Location:

Mill Creek Middle School - Middle School Gym

Calendar:

ML Schedules Calendar

10:00 AM to 4:00 PM

Marching Band Competition Prep

Location:

Comstock Park High School - HS Cafeteria

Calendar:

ML Schedules Calendar

11:00 AM to 12:00 PM

Location:

Pine Island Elementary - PI Gym

Calendar:

ML Schedules Calendar

24

Sep 24

10:00 AM to 2:00 PM

Level Up Basketball Training

Location:

Mill Creek Middle School - Middle School Gym

Calendar:

ML Schedules Calendar

10:15 AM to 11:45 AM

Men's Basketball - Boyd Culver

Location:

Pine Island Elementary - PI Gym

Calendar:

ML Schedules Calendar

1:40 PM to 4:20 PM

Cub Scout Pack 3373 Pack/Den Meeting

Location:

Stoney Creek Elementary - SC Cafeteria

Calendar:

ML Schedules Calendar

5:00 PM to 6:30 PM

Girls Basketball Open Gym/4-person workouts

Location:

Comstock Park High School - HS Gym

Calendar:

ML Schedules Calendar

6:00 PM to 9:00 PM

Location:

Pine Island Elementary - PI Gym

Calendar:

ML Schedules Calendar

25

Sep 25

3:00 PM to 4:00 PM

Location:

Pine Island Elementary - PI Gym

Calendar:

ML Schedules Calendar

3:10 PM to 4:50 PM

Location:

Comstock Park High School - HS Gym

Calendar:

ML Schedules Calendar

3:50 PM to 6:00 PM

Location:

Stoney Creek Elementary - SC Cafeteria, SC Gym

Calendar:

ML Schedules Calendar

4:30 PM to 6:30 PM

Comstock Park HS/MS SOC B JV vs Greenville Public Schools

Location:

Comstock Park High School - HS Stadium

Calendar:

ML Schedules Calendar

4:30 PM to 8:30 PM

PASS FC Outdoor Training 23/24 Season

Location:

Pine Island Elementary - PI East Practice Field, PI West Practice Field

Calendar:

ML Schedules Calendar

5:00 PM to 8:00 PM

Level Up Basketball Training

Location:

Mill Creek Middle School - Middle School Gym

Calendar:

ML Schedules Calendar

5:30 PM to 8:30 PM

rocket football practice 3/4 5/6

Location:

Mill Creek Middle School - MC Practice Field

Calendar:

ML Schedules Calendar

6:00 PM to 8:00 PM

Comstock Park HS/MS SOC B V vs Greenville Public Schools (Senior Night)

Location:

Comstock Park High School - HS Stadium

Calendar:

ML Schedules Calendar

Facility: HS Stadium Event Mng.: Nate Gould Fee: $0.00 Visit https://comstockparkpanthers.com/main/event/scid/MI493219338/eventid/75915608 for more information!

Click here to watch this event live!

6:00 PM to 9:30 PM

Location:

Comstock Park High School - HS Band Lot, HS Band Room, HS Choir Room, HS Life Skills Classroom (A102

Calendar:

ML Schedules Calendar

26

Sep 26

6:00 AM to 7:15 AM

Location:

Comstock Park High School - HS Gym

Calendar:

ML Schedules Calendar

3:00 PM to 4:00 PM

Location:

Pine Island Elementary - PI Gym

Calendar:

ML Schedules Calendar

3:00 PM to 4:00 PM

Weight Training - Wes Cummings

Location:

Comstock Park High School - HS Weight Room

Calendar:

ML Schedules Calendar

3:10 PM to 4:50 PM

Location:

Comstock Park High School - HS Gym

Calendar:

ML Schedules Calendar

3:15 PM to 6:15 PM

Location:

Comstock Park High School - HS Stadium

Calendar:

ML Schedules Calendar

3:50 PM to 6:00 PM

Location:

Stoney Creek Elementary - SC Cafeteria, SC Gym

Calendar:

ML Schedules Calendar

4:30 PM to 7:30 PM

Location:

Comstock Park High School - HS Mat Room

Calendar:

ML Schedules Calendar

4:30 PM to 8:30 PM

PASS FC Outdoor Training 23/24 Season

Location:

Pine Island Elementary - PI East Practice Field, PI West Practice Field

Calendar:

ML Schedules Calendar

5:00 PM to 8:00 PM

Level Up Basketball Training

Location:

Mill Creek Middle School - Middle School Gym

Calendar:

ML Schedules Calendar

5:30 PM to 8:30 PM

rocket football practice 3/4 5/6

Location:

Mill Creek Middle School - MC Practice Field

Calendar:

ML Schedules Calendar

5:45 PM to 9:45 PM

ASDE Instructor Prep Classes- Tue & Thur

Location:

Comstock Park High School - HS Classroom Lab B110

Calendar:

ML Schedules Calendar

6:00 PM to 8:00 PM

Location:

Stoney Creek Elementary - SC Gym

Calendar:

ML Schedules Calendar

6:00 PM to 9:00 PM

Location:

Pine Island Elementary - PI Gym

Calendar:

ML Schedules Calendar

6:30 PM to 8:30 PM

Location:

Comstock Park High School - HS Stadium

Calendar:

ML Schedules Calendar

27

Sep 27

3:00 PM to 4:00 PM

Location:

Pine Island Elementary - PI Gym

Calendar:

ML Schedules Calendar

3:10 PM to 4:50 PM

Location:

Comstock Park High School - HS Gym

Calendar:

ML Schedules Calendar

3:50 PM to 6:00 PM

Location:

Stoney Creek Elementary - SC Cafeteria, SC Gym

Calendar:

ML Schedules Calendar

4:00 PM to 6:00 PM

Comstock Park HS/MS TEN B V vs Cedar Springs

Location:

Comstock Park High School - HS Tennis Courts

Calendar:

ML Schedules Calendar

4:15 PM to 6:15 PM

Comstock Park HS/MS VLB G MS vs Kelloggsville Middle School (MS Girls Volleyball)

Location:

Mill Creek Middle School - Middle School Gym

Calendar:

ML Schedules Calendar

4:30 PM to 8:30 PM

PASS FC Outdoor Training 23/24 Season

Location:

Pine Island Elementary - PI East Practice Field, PI West Practice Field

Calendar:

ML Schedules Calendar

5:00 PM to 8:00 PM

Level Up Basketball Training

Location:

Stoney Creek Elementary - SC Gym

Calendar:

ML Schedules Calendar

5:30 PM to 7:30 PM

Location:

Comstock Park High School - HS Mat Room

Calendar:

ML Schedules Calendar

5:30 PM to 8:15 PM

rocket flag football games

Location:

Comstock Park High School - HS North Practice Field

Calendar:

ML Schedules Calendar

5:30 PM to 8:30 PM

rocket football practice 3/4 5/6

Location:

Mill Creek Middle School - MC Practice Field

Calendar:

ML Schedules Calendar

6:00 PM to 8:00 PM

Comstock Park HS/MS SOC B V vs Hopkins High School

Location:

Comstock Park High School - HS Stadium

Calendar:

ML Schedules Calendar

Facility: HS Stadium Announcer: Gary Holland Fee: $0.00 Event Mng.: Nate Gould Fee: $0.00 Tickets: Brittany Lerch Fee: $0.00 Visit https://comstockparkpanthers.com/main/event/scid/MI493219338/eventid/75888706 for more information!

Click here to watch this event live!

6:00 PM to 8:00 PM

Location:

Comstock Park High School - HS Auditorium, HS Aux Gym, HS Band Lot, HS Band Room, HS Choir Room

Calendar:

ML Schedules Calendar

6:00 PM to 9:00 PM

Location:

Pine Island Elementary - PI Gym

Calendar:

ML Schedules Calendar

6:30 PM to 7:30 PM

Location:

Comstock Park High School - HS Auditorium, HS Aux Gym

Calendar:

ML Schedules Calendar

6:30 PM to 7:30 PM

Location:

Comstock Park High School - Multiple Spaces

Calendar:

ML Schedules Calendar

28

Sep 28

6:00 AM to 7:15 AM

Location:

Comstock Park High School - HS Gym

Calendar:

ML Schedules Calendar

3:00 PM to 4:00 PM

Location:

Pine Island Elementary - PI Gym

Calendar:

ML Schedules Calendar

3:00 PM to 4:00 PM

Location:

Comstock Park High School - HS Cafeteria

Calendar:

ML Schedules Calendar

3:00 PM to 4:00 PM

Weight Training - Wes Cummings

Location:

Comstock Park High School - HS Weight Room

Calendar:

ML Schedules Calendar

3:10 PM to 4:50 PM

Location:

Comstock Park High School - HS Gym

Calendar:

ML Schedules Calendar

3:15 PM to 6:15 PM

Location:

Comstock Park High School - HS Stadium

Calendar:

ML Schedules Calendar

3:50 PM to 6:00 PM

Location:

Stoney Creek Elementary - SC Cafeteria, SC Gym

Calendar:

ML Schedules Calendar

4:30 PM to 8:30 PM

PASS FC Outdoor Training 23/24 Season

Location:

Pine Island Elementary - PI East Practice Field, PI West Practice Field

Calendar:

ML Schedules Calendar

5:00 PM to 8:00 PM

Level Up Basketball Training

Location:

Mill Creek Middle School - Middle School Gym

Calendar:

ML Schedules Calendar

5:30 PM to 8:30 PM

rocket football practice 3/4 5/6

Location:

Mill Creek Middle School - MC Practice Field

Calendar:

ML Schedules Calendar

5:45 PM to 9:45 PM

ASDE Instructor Prep Classes- Tue & Thur

Location:

Comstock Park High School - HS Classroom Lab B110

Calendar:

ML Schedules Calendar

6:00 PM to 8:00 PM

Comstock Park HS/MS FB B JV vs Hopkins High School

Location:

Comstock Park High School - HS Stadium

Calendar:

ML Schedules Calendar

Facility: HS Stadium Announcer: Sam Weatherwax Fee: $0.00 Press Box Spotter: Rose Weatherwax Fee: $0.00 Clock: Roman Rodriquez Fee: $0.00 Tickets: Charlene Werdon Fee: $0.00 Event Mng.: Nate Gould Fee: $0.00 Visit https://comstockparkpanthers.com/main/event/scid/MI493219338/eventid/75930143 for more information!

6:00 PM to 9:00 PM

Location:

Pine Island Elementary - PI Gym

Calendar:

ML Schedules Calendar

6:05 PM to 7:55 PM

Location:

Greenridge Elementary - GR Gym

Calendar:

ML Schedules Calendar

8:00 PM to 9:30 PM

Basketball - Local Dads and friends

Location:

Stoney Creek Elementary - SC Gym

Calendar:

ML Schedules Calendar

29

Sep 29

3:00 PM to 4:00 PM

Location:

Pine Island Elementary - PI Gym

Calendar:

ML Schedules Calendar

3:10 PM to 4:50 PM

Location:

Comstock Park High School - HS Gym

Calendar:

ML Schedules Calendar

3:50 PM to 6:00 PM

Location:

Stoney Creek Elementary - SC Cafeteria, SC Gym

Calendar:

ML Schedules Calendar

5:00 PM to 8:00 PM

Level Up Basketball Training

Location:

Mill Creek Middle School - Middle School Gym

Calendar:

ML Schedules Calendar

5:30 PM to 8:30 PM

rocket football practice 3/4 5/6

Location:

Mill Creek Middle School - MC Practice Field

Calendar:

ML Schedules Calendar

30

Sep 30

8:30 AM to 4:00 PM

Location:

Comstock Park High School - HS Band Room, HS Cafeteria, HS Choir Room, HS Life Skills Classroom (A10

Calendar:

ML Schedules Calendar

9:45 AM to 5:45 PM

ASDE Instructor Prep Classes- Sat

Location:

Comstock Park High School - HS Classroom Lab B110

Calendar:

ML Schedules Calendar

10:00 AM to 2:00 PM

Level Up Basketball Training

Location:

Mill Creek Middle School - Middle School Gym

Calendar:

ML Schedules Calendar

11:00 AM to 12:00 PM

Location:

Pine Island Elementary - PI Gym

Calendar:

ML Schedules Calendar

6:30 PM to 8:30 PM

Rocket Flag Football Games Under the Lights

Location:

Comstock Park High School - HS Stadium

Calendar:

ML Schedules Calendar
September 15, 2023
Familiar faces lead Comstock Park High School 
"Interim" has been removed from the titles of Kendra Faustin and Charlie Hess
September 13, 2023
Region I emergency coordinator now on the job
John Wittkowski, emergency response and safety coordinator for Region I schools, brings 28 years of law enforcement experience to his new position. 
CP Strategic Plan 2022-2027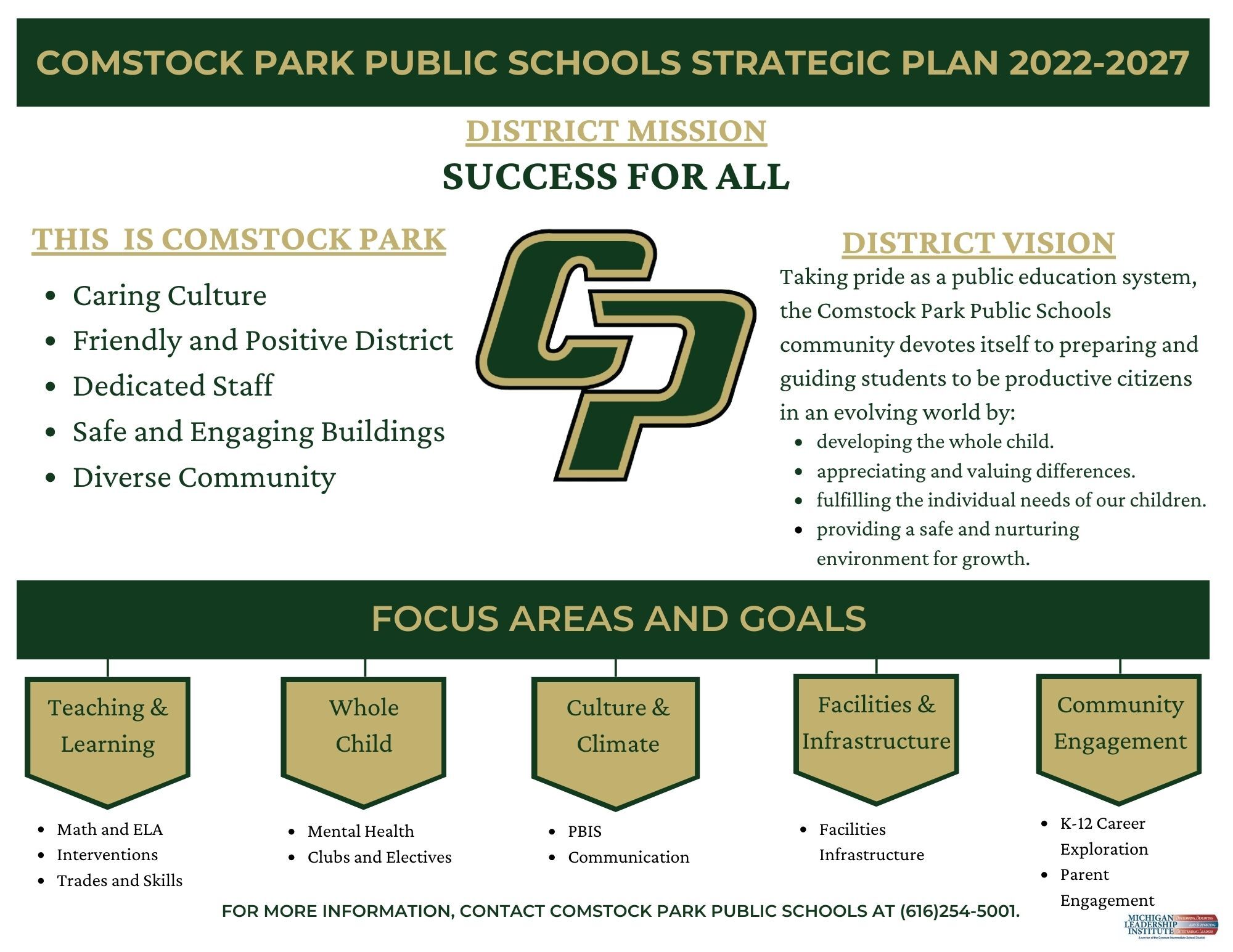 New Volunteer Form
Please fill out a new volunteer form for the 2022-2023 school year. A new form needs to be completed each school year and will expire on June 30, 2023.
Lunch Benefits
Click here to apply for free and reduced lunch benefits. Students must have an approved application to be eligible for free or reduced lunch beginning again for 22/23.
Athletics
COVID-19 2022-2023 School Year
Vision
Taking pride as a public education system, the Comstock Park Public Schools community devotes itself to preparing and guiding students to be productive citizens in an evolving world by:
developing the whole child.
appreciating and valuing differences.
fulfilling the individual needs of our children.
providing a safe and nurturing environment for growth.
If you have questions or have an ADA complaint to file, please email the following Compliance Officer at the following address - dwashburn@cppschools.com