School Health Program
Healthy, Safe and Ready to Learn
Comstock Park in partnership with Spectrum Health Healthier Communities, employs a full time Registered Nurse, Heather Norman, RN, BSN. Mrs. Norman provides health services for all of our district buildings.
Hello I am Heather Norman. This is my third year in the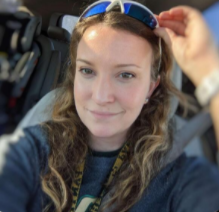 district. I love being part of the CP family!
A little about my role: I am the nurse of the entire district. This means that I jump around between buildings as needed for student emergencies. I help coordinate with physicians for medical needs, and make sure kids stay staff in schools by training people in each building. I help with medical 504s and IEPs, Child Study teams, the District Wellness Committee, and so much more!
I am here to partner with you to keep your kiddos in school, safe and healthy!
Please contact me anytime by phone or email (616)-254-5030 or email at hnorman@cppschools.com
Sincerely,
Nurse Heather
Latest Updates:
Fish and Nut Free District
The entire district is now "Nut and Fish Free". We have many students with severe allergies throughout the district, and want to ensure that we are providing the safest school experience for all students! So, we ask that you please refrain from sending any lunches or snacks with nuts such as peanuts or almonds, peanut butter, etc. as well as any fish. If those are some of your child's favorite foods, I am happy to help you find some tasty alternatives!
I have created a document attached HERE titled Peanut, Nut, and Fish Alternatives with some great options for those picky eaters and students that love PB& J's.
Thank you so much for your help, understanding, and caring for our kiddos!
Students with Health Concerns
Needed forms and school supplies for health concerns:
o Severe Allergies:
EPI Pen and/or Benadryl and Medication Consent Forms
Allergy Action Plan from Physician
Dietary Accommodation form if food related
Individualized Health Plan
o Asthma:
Inhaler and Medication Consent Form
Asthma Action Plan from Physician
Individualized Health Plan
o Chronic Conditions
Action Plan from Physician
Individualized Health Plan
Classroom Healthcare Plan
o Diabetes
Medication Consent Form for Insulin
Medication Consent Form for Glucagon
Physician's Individualized Plan of Care for current school year
Emergency Supplies at school:
Ketone Test Strips
Insulin
Tester
Pump Supplies
Glucagon
Snacks/Fixes
Heather Norman